Debt collection in the United Arab Emirates
Debt collection in the UAE that is conducted by a local law firm.
Risk-free. Pay only upon success.
19,5 % in commission.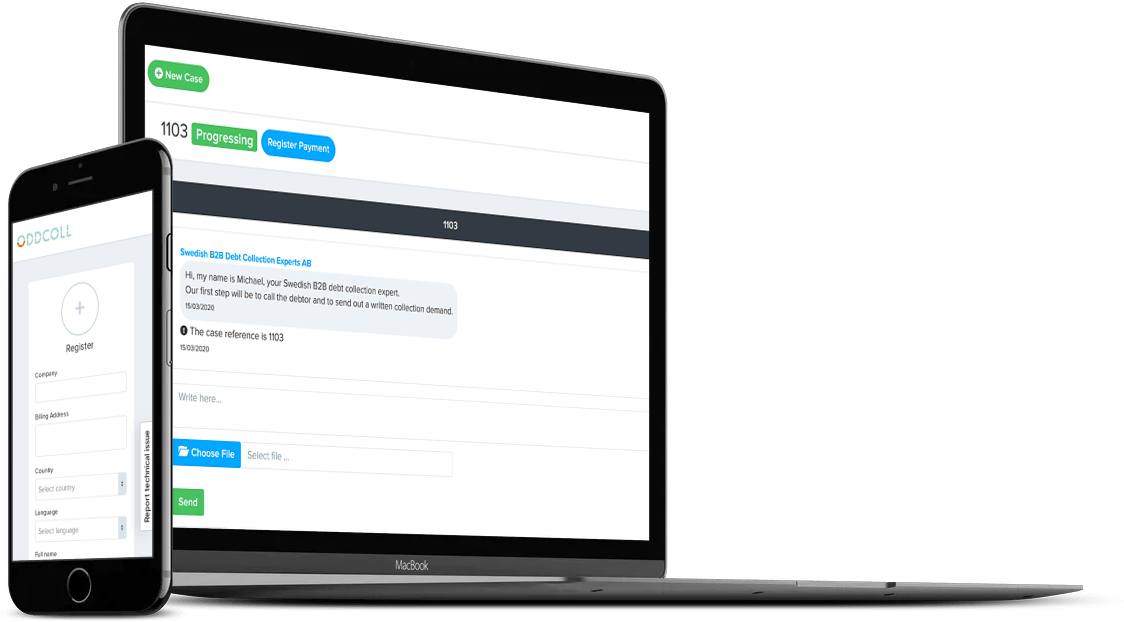 Debt collection from companies in the United Arab Emirates.
If you have business customers in the UAE who are not paying their invoices to you, there is now an easy way to get help. We can help you with debt collection in the UAE so that you get paid quickly and easily. Read on to see how.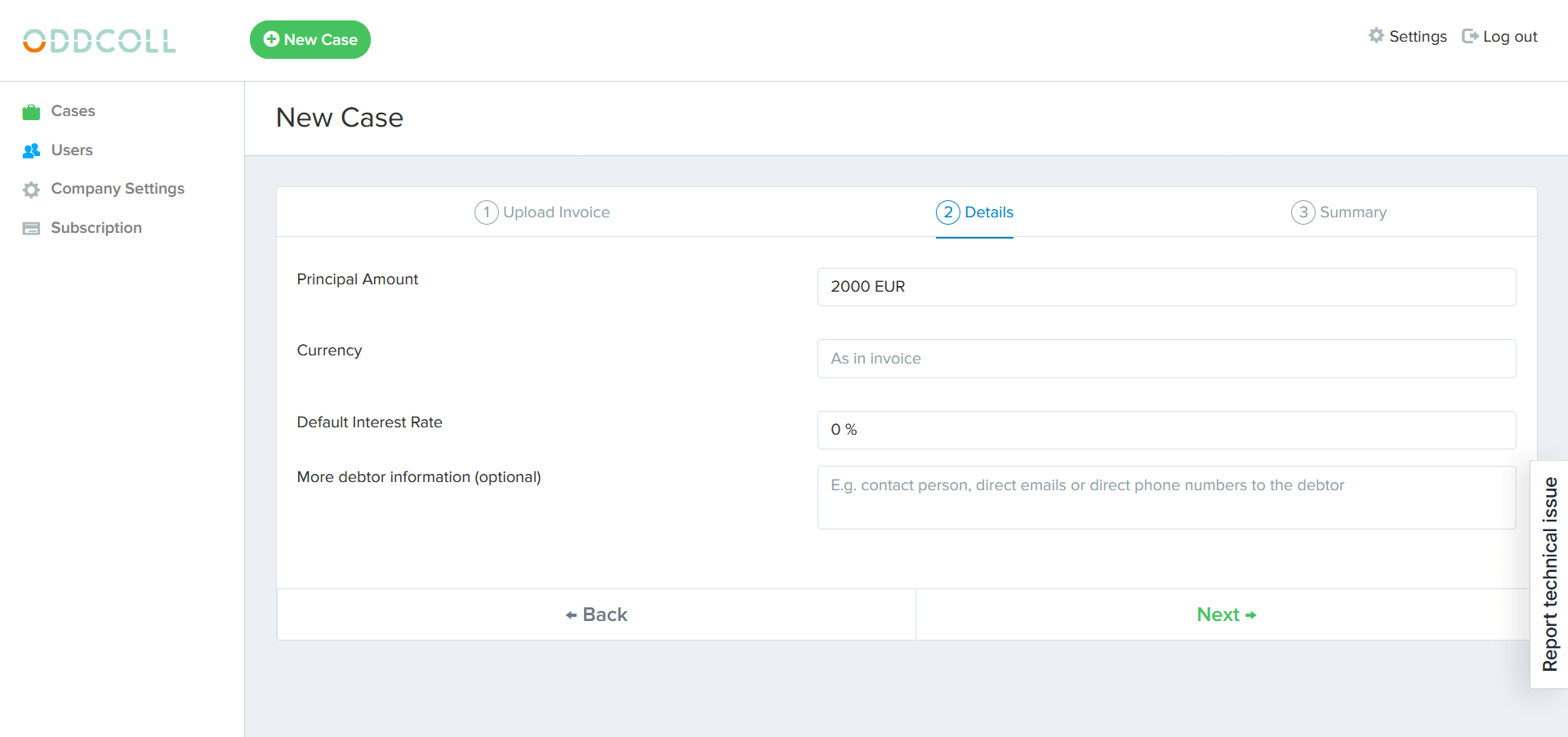 1, Start your debt collection case by uploading your unpaid debt to your UAE customer.
2, Our local debt collection partner in the UAE. (Abdelaziz Al Khamiri Advicates & Legal Consultants law firm) starts action locally to collect your debt.
3. Once payment has been made by the debtor, the money is transferred directly to you.
Some reasons to use us for debt collection in the UAE.
Local debt collection expertise in the UAE.
We speak the same language as your debtors.
We understand all the local customs and rules.
You pay nothing if we fail to collect your debt.
Collecting debts from customers in other countries is not easy.
We at Oddcoll are more than aware of this. When you have a customer in the UAE who doesn't pay their invoice, it's easy to feel frustrated and powerless. You have no leverage and no tricks to put pressure on your debtor. This is a scenario that too many internationally-oriented companies find themselves in when their overseas customers default on payments.
To overcome this and to make it easier for these companies, we have created an international debt collection platform where we have brought together the most suitable national debt collection agencies and law firms around the world. This means that you can put a local debt collection agency or law firm to work when invoices against your foreign customers are due, at the click of a button.
All you need to know about international debt collection in 60 sec.
Our local law firm located in the UAE who will directly initiate collection actions on the spot.
We are very pleased and proud to be working in the UAE with the local law firm Abdelaziz Al Khamiri Advicates & Legal Consultants.
– Could you briefly describe your company?
We are a smart, full-service business law firm that assists business from its inception, throughout their operations and also restructuring and bankruptcy. We embody great values of diversity and inclusion, genuinity with our operations and philanthropy. We are headquartered in Dubai besides our offices in Sharjah and Ras Al Khaimah.
– Can you give us an overview of the collection process in the UAE?
The procedure of debt collection via litigation in the UAE can be very different depending on the type of disputes, such as bounced cheque, agreement dispute, etc. Overall, there are three degrees of litigations, which are First Instance Court, Appeal Court and Cassation Court. Once the judgement becomes binding, the creditor can apply for execution and attach debtor's assets through court.
– How does it work in the UAE when you need to take legal action?
We usually review the case first and give advice based on the case files. In case of legal actions, we usually request advance legal fees from our client before we can begin court actions. We will prepare a proposal with our scope of work, our professional fees, out of pocket fees, term of payment, etc. Our professional fee (the percentage) is not fixed and depends on each client.
– If you are taking legal actions in a case and you win in court, can the costs for legal actions that the client has paid for be added to the debt?
All costs that the client bear during the litigation course will be reimbursed in the execution stage after the judgment becomes binding , except the translation charges and lawyer fees. According to the pecuniary jurisdiction; the other party is entitled to appeal within the prescribed period set out in the law.
Judicial debt collection in the United Arab Emirates.
The United Arab Emirates is a state made up of seven emirates.
The legal tradition is a mix of Islamic law derived from Sharia, but the law also has traces of the European civil law tradition, mainly from France.
When it comes to civil disputes between companies, the law is mainly based on the civil law tradition, while social law, such as family law, is mainly based on Sharia.
However, certain principles derived from Islam influence the substantive application of law in the civil sphere. Examples include the prohibition of usury or interest. Another example is that uncertainty in contracts is forbidden. This means that all parties to the contract must have full knowledge of all the terms of the contract.
This duality between a civil law system is also reflected in the way the courts are organized, as there are special Sharia courts as well as civil courts. These courts have jurisdiction over different types of legal issues.
The legal structure in the UAE consists of two systems:
– a federal system and
– local legal systems.
In fact, the individual emirates can choose whether they want to join the federal legal system or whether they want their own local version. The emirates of Sharjah, Ajman, Fujairah and Umm Al Quwain are affiliated to the federal system. Abu Dhabi, Dubai and Ras al Khaimah, on the other hand, have their own local judicial systems (except for certain areas of law assigned to the federal judiciary by the constitution).
In civil cases in the UAE, there are three levels of courts which allow a party to appeal against a judgment with which they are not satisfied. These are the Court of First Instance, the Court of Appeal and the Court of Cassation/the federal supreme court. If the judgment of the Court of First Instance is not satisfactory, it can be appealed to the Court of Appeal and then to the Court of Cassation or the Federal supreme court (Depending on whether it is an emirate with a local system or an emirate linked to the federal system.).
The courts of first instance are the ones to turn to when pursuing legal action for debt collection in the UAE.
These courts are divided into different circuits dealing with different legal issues and different amounts in dispute. The creditor should know which category his lawsuit falls into in order to determine which circuit will hear his case.
In the federal courts, for example, the following divisions exist:
Minor courts: Here, litigation cases are adjudicated by a single judge, for disputes not exceeding AED 500,000. Thus, most legal collection cases usually end up here. Judgements from this circuit are final if the value of the lawsuit does not exceed AED 20,000. (So not appealable.)
Larger Circuits: The large circuits consist of three judges. They have jurisdiction to hear all civil cases that do not fall within the jurisdiction of the smaller circuits. (i.e. disputes involving large sums of money).
In addition, there are criminal courts, Sharia courts, etc.
So where does one turn with a debt collection case against a debtor in the UAE, when one needs to proceed legally?
Well, as the above statement shows, the answer is that it depends…
It depends on which Emirate the debtor is in and whether the Emirate is linked to the federal system or a local system. It depends on the size of the dispute in question. The court to which one needs to turn therefore needs to be examined on a case-by-case basis.
This is how our debt collection service works.
We can help you with debt collection in the UAE. Get started today or contact us for more information.
See how easy it is to get started with your case!
Oddcoll is a service for international debt collection.
We make it easy for companies to get paid from their customers abroad.