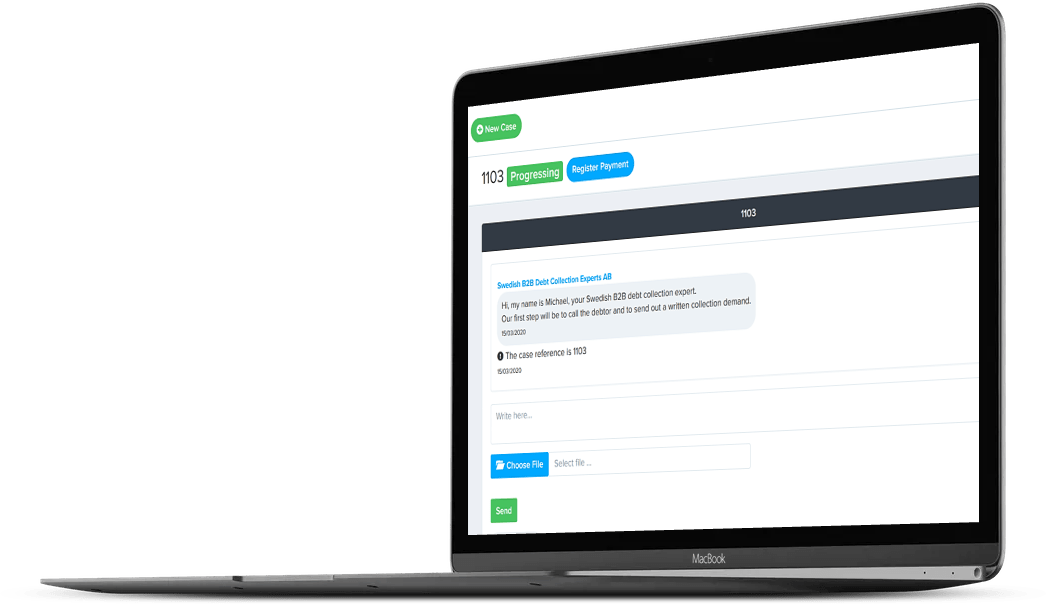 Beneficiază de colectarea facturilor în câțiva pași simpli!
Beneficiază de colectarea facturilor în câțiva pași simpli!
1. Încarcă factura.
Creează un cont și încarcă facturile a căror sumă trebuie să fie colectată.
2. Începe procesul de colectare a datoriilor.
Facturile pe care le încarci sunt colectate local de către partenerii noștri, agențiile de colectare a datoriilor și de firmele de avocatură din aceeași țară ca și debitorii tăi.
Aceștia vor lua imediat măsurile adecvate care sunt eficiente în țara lor specifică. Acestea pot include apeluri telefonice și cereri de colectare.
Cel mai important este că acestea beneficiază de jurisdicția și de expertiza de a întreprinde acțiuni în justiție împotriva debitorilor tăi. Acesta este un fapt care va mări șansele ca debitorii să plătească.
3. Fii plătit.
Când valoarea facturii a fost colectată, banii îți sunt transferați.
Întrebări frecvente despre modul în care funcționează
Pot începe cazuri prin API sau fișier CSV?
Da Oddcol are o API la care vă puteți conecta. De asemenea ne puteți trimite fișiere tip CSV pentru a începe cazuri. Ne puteți contacta pentru mai multe informații.
Cât durează procesul de colectare a datoriilor?
Lucrul acesta depinde de țările în care se întâmplă această acțiune, dar în general faza colectării amiabile a datoriilor durează între 3 și 8 săptămâni.
Cum comunic cu colectorii de datorii?
Comunici direct cu colectorii de datorii pe pagina fiecărui caz în parte.
Am să fiu informat atunci când se întâmplă ceva cu cazurile mele?
Da, vei fi informat prin email.
Cum îmi pot accesa cazurile?
Prin intermediul paginilor contului ai acces la cazurile tale, oriunde și oricând!
Ce se întâmplă în cazul în care debitorul nu plătește în ciuda cererilor de colectare și a amenințărilor de a continua pe cale legală?
Următorul pase este acela de a acționa în justiție. Lucrul acesta se face în țara debitorului iar partenerii noștri sunt experți în recuperarea juridică a creanțelor.

Lars , Hvide Sande
Persistent and gets results.
Had a client, who wouldn't pay their bill. Got Oddcoll on the case. Even though it was a tough fight, they managed to get a payment out of them.
Will absolutely use oddcoll again in the future.
– Easy to create a case on their website
– Good information during the whole process
– Low cost, compared to similar companies
– They get results

David , Las Palmas de Gran Canaria
Global tool to take into account today
It puts at your disposal a great debt collection tool without selling smoke and with a practical and useful approach for any company or individual who needs to outsource a great service at an affordable cost.

Brian , Copenhagen
Smooth experience – excellent customer support!
Just worked out like a charm…. excellent service all around. And their online system worked flawlessly. Great overall experience that I can only recommend.

Holden , Darwen
Oddcoll get the job done!
Very straightforward dealing with Oddcoll. All necessary information supplied, good communication feedback and payment received from debtor. Would use again!

Daniel Arnold , Munich
Very efficient and helpful service
I had to collect an invoice that was a long time overdue and the debtor refused to communicate with me. The debt collection service was swift and effective, my invoice was paid within a few weeks of engaging Oddcoll. I highly recommend this service as it saved a lot of time and hassle I would otherwise have had to go through. The online portal is very helpful and extremely easy to use. Communications from the local debt collector (in my case in the Netherlands) were swift and professional.

Iida , Helsinki
Great customer service & well designed online service!
We were advised and informed well concerning every step of the dept collection process. The dept of our client was paid not long after the process was initiated.

Korana Lasić , Tesanj
Oddcoll AB have impressed me with their no nonsense approach and professionalism.
Wonderful people. You can trust them to do the job and do it well. All you have to do is upload the invoice onto their platform and leave the rest up to them.
They have a wonderful Irish partner in Paul Nolan of AR Solutions. He has recently handled on my behalf a very difficult outsourcer, very successfully.
I am a freelance translator and having Oddcoll to count on has alleviated my anxiety and given me the option of taking on risky jobs from less then ideal outsourcers. They really are a freelancer's best friend.

Jesper , Viborg
Very professional
Very professional. Good communications. And they got our money. Thank you. Will definately use this service again

Jan , Aabenraa
Quick response and action.
The case was closed within 14 days, so we are very satisfied.

Eman , 2 Woodberry Grove North Finchley London United Kingdom N12 0DR
My experience with Oddcoll AB Debts collector
My name is Eman Nabih, I'm COO, Internet Marketing Specialist in Devenia Limited co (British company). We certainly recommend Oddcoll as debts collector, because according to our experience with them, Oddcoll and their staff, are professional, reliable and credible in handling debt collection cases Globally.
We had a case with an Italian Company in 2019, we provided the services, and they refused to pay us the invoice. We contacted Oddcoll, and their staff handled the case with the debtor and the case is solved.
If any company out there, whether a small or a big business size, ever faces problems in collecting their money/sales invoices from a customer, we do recommend Oddcoll Debts collector, because having such services means that your money is safe and you will get it back, even if a customer thinks that he can just decide not to pay you the money of a provided service and get away with it.
We certainly are going to use Oddcoll again if we ever face any problem in relation to debt collection, that really saved us money, time and legal procedures, if we were obliged to do it on our own.
Oddcoll este un serviciu internațional de colectare a datoriilor. Facem mai ușor pentru companii să fie plătite de către clienții lor din străinătate.