The European Order for Payment (the EOP)
When a creditor located in an EU country has a claim against a debtor in another EU country, there are legal tools from EU accessible. With this post, we begin by explaining the European Payment Order.
The procedure, which has been around since 2006, is intended to give both companies and individuals an easy way to recover undisputed invoices against customers located in other EU countries. A procedure that is initiated from one's own country and then administered by the judiciary in the EU country where the debtor is located.
What are the conditions for using the procedure?
First of all, it applies for claims of cross-border nature where both creditors and debtors are located in the EU. (Denmark is, however, exempted from the procedure.)
Secondly, it must be about civil and commercial claims. Simplified, this means that the procedure is applicable when both parties are "private" subjects.
And also, the claim must be a specific and determined amount due for payment.
To apply, a form must be completed and sent to the competent court in the debtor's country.
See this link to get to the form.
The procedure thereafter is purely administrative. The debtor is served the European Payment Order.
Should a dispute against the payment claim be made by the debtor, the creditor must decide whether or not to proceed with the ordinary rules of civil procedure. (to sue the debtor in court).
If the debtor does not dispute the procedure, the Payment Order may, after it has become final, be used against the debtor in an enforcement procedure.
What does it cost?
The costs of the European order for payment are unfortunately not transparent and easy to understand. It is different depending on the country in which you apply (ie the debtor's country) and often depends on the amount of the claim.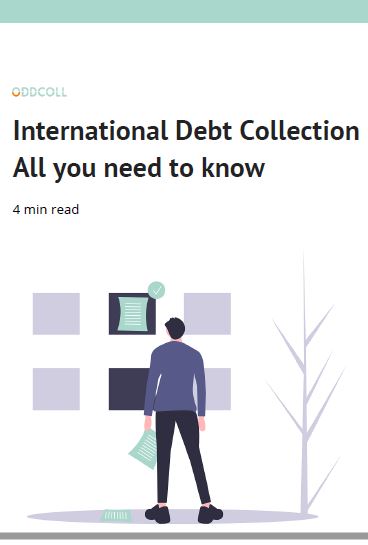 4 min read.

  What regulations apply.

  The international collection process.

  How to achieve effective debt collection.
Instant Debt Collection in all Europe
Oddcoll is a platform with Debt Collectors worldwide, enabling internationally- oriented companies to recover their overdue invoices with ease.

Applies to all our partners
– Legal authorization to recover claims in their countries
– B2B Collection Specialists
– Communicates in English
– Experts in their national debt recovery legislation