The ABCs of International Debt Recovery
What is International debt recovery?
International debt recovery has to do with the recovery of cross-border, non-contested claims. For companies, it involves collecting invoices that are overdue against foreign customers.
There are three phases in claims recovery:
Amicable debt collection,  A creditor or a Debt Collector tries to persuade a debtor to pay his debt without resorting to legal action.
The judicial phase, Where the creditor decides to institute legal action for recovery of debt.
Enforcement if there's need to enforce judgment.
(Insolvency proceedings can also be relevant when the debtor is in default.)
Governing Rules and Laws.
There are no laws governing international debt recovery. Laws on debt recovery are limited to national level.
The law regulating debt collection in the country of the debtor applies for debt collection. In essence, if you intend to collect a claim against someone who resides in France, French laws will apply.
The major features of debt collection.
Most countries have certain distinguishable features.
Most European countries require permission to collect debt on behalf of another creditor. The license covers debt collection within the confines of the country. This to protect the debtors from prohibited practices and shady companies.
Here's an illustration: if you're making your claim against a company of German origin, only a German collector can recover such a claim regardless of the creditor's country.
There are rules regulating certain actions to protect debtors. For instance, debt collectors cannot contact their debtors at odd times of the day. Debt collectors are also not allowed to threaten to institute legal actions against debtors if their claim lacks legal basis.
Most countries have simplified judicial procedures to regulate uncontested claims if there's need for a creditor to institute any legal action.
The debt recovery procedure.
The amicable phase.
The Law Firm or Debt Collection Agency first employs voluntary tactics to recover the claim. Voluntary = without instituting legal action.
The debtor is informed about the claim by the debt collector who also informs him that legal action is an option if there's non-payment. This has a huge impact on the debtor's desire to pay back.
The judicial phase.
Legal actions are usually instituted in the country of the debtor.
There's a court procedure known as "Payment Order" used to settle uncontested monetary claims in most countries. This procedure makes things cheaper and faster compared to the normal proceedings. Apart from the creditors, this is also great for national courts as it reduces their workload.
If the creditor receives a verdict, then the judgment obtained from the legal action is proof that there's a legal claim.
Jurisdiction: Jurisdiction has to do with the country where the legal action is to be instituted where parties reside in different countries. Such questions must be tackled in each case.
However, the rule of thumb for commercial disputes is that the country of the debtor will have jurisdiction if the parties fail to agree on jurisdiction. The implication of this is that, these debt collection cases will be instituted in the debtor's country.
Enforcing International Claims (post-legal action)
If the debtor fails to pay after judgment, the next step is to apply for enforcement.
Every country has its own enforcement authority that can recover assets from debtors if they fail to pay up willingly.
You can only apply for enforcement from the country where your debtor's assets are located because enforcement authorities cannot carry out enforcement in another country.
As a rule, before you apply for enforcement, you must have a judgment-verdict (enforcement order) from the country where you're applying for enforcement.
To enforce a foreign judgment in a country, there must be an international agreement to that effect and the country must have acceded to it. Fortunately, these laws and agreements exist to facilitate free movement including cross-border interactions and trade.
Here are some essential provisions in Europe: The 2007 Lugano Convention. The 2012 Brussels I Regulation. The 2000 Brussels I Regulation.
When engaging third parties.
A Law Firm or Debt Collection Agency?
You can collect your uncontested claims through both debt collection companies and law firms.
Different countries have their own preferences, which is why there's no uniform answer to this particular question.
If you think your claim will be contested, you should probably get legal help.
Debtor or creditor's country?
Ensure that your choice of professional has local coverage in whichever country the creditor resides.
It is easier to recover your debt through a local debt collector who has knowledge of the local procedural laws, business culture, recovery practices and who speaks the language of your debtor.
This also makes it easier for you to comply with the rules and laws regulating debt collection in the nation.
Make sure your third-party debt collector covers the whole collection procedure. Doing this gives you leverage with your debtors and makes it easier to proceed with the necessary escalated steps if need be.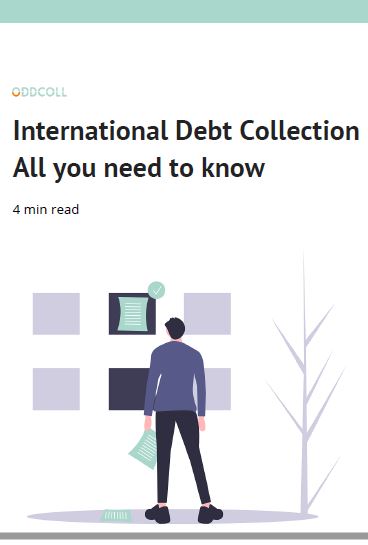 4 min read.

  What regulations apply.

  The international collection process.

  How to achieve effective debt collection.
Instant Debt Collection in all Europe
Oddcoll is a platform with Debt Collectors in every European country, enabling internationally- oriented companies to recover their overdue invoices with ease.

Applies to all our partners
- Legal authorization to recover claims in their countries
- B2B Collection Specialists
- Communicates in English
- Experts in their national debt recovery legislation