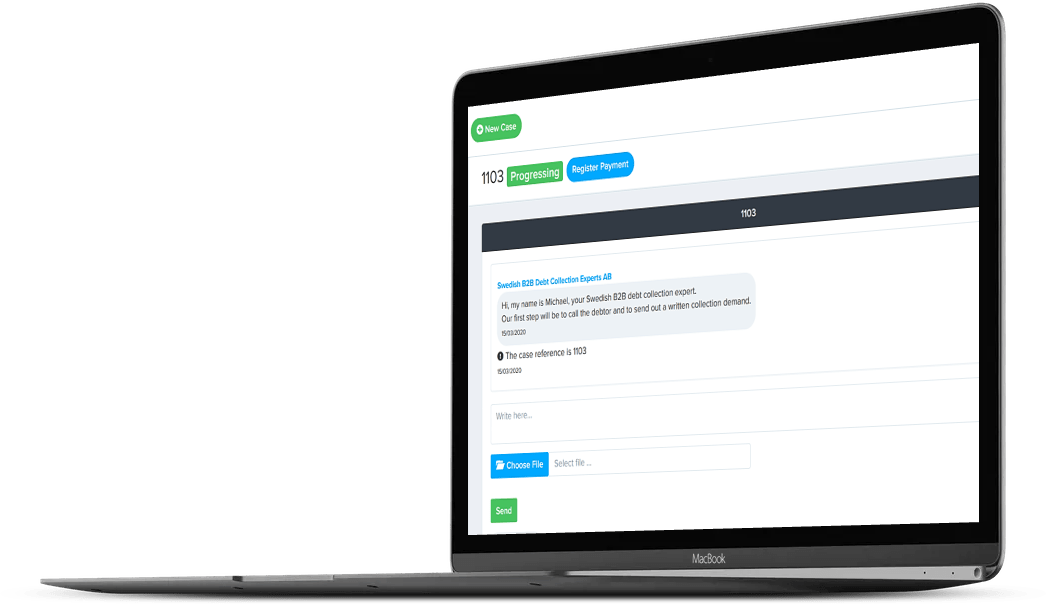 Zberite svoje račune v nekaj preprostih korakih
Zberite svoje račune v nekaj preprostih korakih
1. Naložite račun.
Ustvarite račun in naložite račun, ki ga želite izterjati.
2. Začne se postopek izterjave dolga.
Račune, ki jih naložite, lokalno izterjajo naši partnerji, agencije za izterjavo dolgov in odvetniške pisarne v istih državah kot vaši dolžniki.
Ti bodo takoj sprejeli ustrezne ukrepe, ki so učinkoviti v njihovi posamezni državi. To lahko vključuje telefonske klice in zahteve za izterjavo.
Najpomembneje je, da imajo pristojnost in strokovno znanje za sprejemanje pravnih ukrepov proti vašim dolžnikom. To je dejstvo, zaradi katerega je veliko bolj verjetno, da bodo dolžniki plačali.
3. Prejmite plačilo.
Ko je račun izterjan, se denar prenese na vaš račun.
Pogosta vprašanja o delovanju
Ali lahko začnem primere preko API-ja ali CSV datoteke?
Da, Oddcoll ima API, s katerim se lahko povežete. Lahko pa nam pošljete datoteko CSV za pričetek primera. Kontaktirajte nas za več informacij.
Kako dolgo traja postopek izterjave dolga?
V različnih državah se razlikuje, vendar običajno faza sporazumne izterjave dolga traja od tri do osem tednov.
Kako lahko komuniciram z izterjevalci dolgov?
Z izterjevalci dolgov komunicirajte neposredno na strani z zadevo za vsak primer posebej.
Ali bom obveščen, ko se bo v mojih primerih kaj zgodilo?
Da, obveščeni boste po elektronski pošti.
Kako lahko dostopam do svojih zadev?
Prek strani svojega računa imate dostop do svojih zadev od koder koli in kadar koli!
Kaj če dolžnik kljub zahtevkom za izterjavo in grožnjam s pravnim postopkom ne plača?
Naslednji korak je pravno ukrepanje. To se izvede v dolžnikovi državi, naši partnerji pa so strokovnjaki za sodno izterjavo terjatev.

Lars , Hvide Sande
Persistent and gets results.
Had a client, who wouldn't pay their bill. Got Oddcoll on the case. Even though it was a tough fight, they managed to get a payment out of them.
Will absolutely use oddcoll again in the future.
– Easy to create a case on their website
– Good information during the whole process
– Low cost, compared to similar companies
– They get results

David , Las Palmas de Gran Canaria
Global tool to take into account today
It puts at your disposal a great debt collection tool without selling smoke and with a practical and useful approach for any company or individual who needs to outsource a great service at an affordable cost.

Brian , Copenhagen
Smooth experience – excellent customer support!
Just worked out like a charm…. excellent service all around. And their online system worked flawlessly. Great overall experience that I can only recommend.

Holden , Darwen
Oddcoll get the job done!
Very straightforward dealing with Oddcoll. All necessary information supplied, good communication feedback and payment received from debtor. Would use again!

Daniel Arnold , Munich
Very efficient and helpful service
I had to collect an invoice that was a long time overdue and the debtor refused to communicate with me. The debt collection service was swift and effective, my invoice was paid within a few weeks of engaging Oddcoll. I highly recommend this service as it saved a lot of time and hassle I would otherwise have had to go through. The online portal is very helpful and extremely easy to use. Communications from the local debt collector (in my case in the Netherlands) were swift and professional.

Iida , Helsinki
Great customer service & well designed online service!
We were advised and informed well concerning every step of the dept collection process. The dept of our client was paid not long after the process was initiated.

Korana Lasić , Tesanj
Oddcoll AB have impressed me with their no nonsense approach and professionalism.
Wonderful people. You can trust them to do the job and do it well. All you have to do is upload the invoice onto their platform and leave the rest up to them.
They have a wonderful Irish partner in Paul Nolan of AR Solutions. He has recently handled on my behalf a very difficult outsourcer, very successfully.
I am a freelance translator and having Oddcoll to count on has alleviated my anxiety and given me the option of taking on risky jobs from less then ideal outsourcers. They really are a freelancer's best friend.

Jesper , Viborg
Very professional
Very professional. Good communications. And they got our money. Thank you. Will definately use this service again

Jan , Aabenraa
Quick response and action.
The case was closed within 14 days, so we are very satisfied.

Eman , 2 Woodberry Grove North Finchley London United Kingdom N12 0DR
My experience with Oddcoll AB Debts collector
My name is Eman Nabih, I'm COO, Internet Marketing Specialist in Devenia Limited co (British company). We certainly recommend Oddcoll as debts collector, because according to our experience with them, Oddcoll and their staff, are professional, reliable and credible in handling debt collection cases Globally.
We had a case with an Italian Company in 2019, we provided the services, and they refused to pay us the invoice. We contacted Oddcoll, and their staff handled the case with the debtor and the case is solved.
If any company out there, whether a small or a big business size, ever faces problems in collecting their money/sales invoices from a customer, we do recommend Oddcoll Debts collector, because having such services means that your money is safe and you will get it back, even if a customer thinks that he can just decide not to pay you the money of a provided service and get away with it.
We certainly are going to use Oddcoll again if we ever face any problem in relation to debt collection, that really saved us money, time and legal procedures, if we were obliged to do it on our own.
Oddcoll je storitev za mednarodno izterjavo dolgov.
Podjetjem olajšamo pridobivanje plačil od njihovih strank v tujini.