Payment reminders for late payments
When a customer has not paid an invoice that is due, the next step in the recovery process is often to send the customer a payment reminder.
When do you send a payment reminder?
A payment reminder should be sent out a few business days after the due date has passed.
If you send the reminder immediately after the due date, it may cause unnecessary irritation and administrative work if the payment is already on its way.
However, if you wait for too long, this may give the impression that, to some extent, you allow late payments and that you do not have well-functioning routines for your credit management.
How many payment reminders should you send?
Normally, creditors should not send more than one payment reminder for each late payment. More than one, maximum two, undermines the seriousness of the reminders.
Some creditors also choose to send two reminders. The first one can be soft and friendly, while the second strictly informs the debtor about the consequences in case of non-payment.
What can / should a payment reminder contain?
Information that the invoice is due and that payment has not been received, (Referring to invoice number and invoice date.)
A new final due date.
Late payment interest
Reminder fee
Consequences of non-payment. (eg debt collection or legal action)
What If the customer still does not pay?
In these cases, you should escalate the actions against the debtor by sending the case to debt collection or by taking legal action.
More reminders do not help at this stage and escalating actions show the customer that one is serious. This makes the customer prioritize the invoice and the chance of getting paid increases significantly. In addition, a professional debt collector is expert on how to get the debtor to pay.
At Oddcoll, our endeavor is to enlist ourselves into the minutest of the details in terms of partnering with experienced debt collection agencies and law firms to collect invoices faster and with better business debt recovery rates in any European country.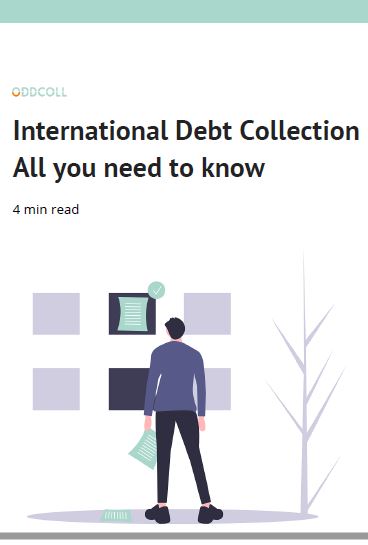 4 min read.

  What regulations apply.

  The international collection process.

  How to achieve effective debt collection.
Instant Debt Collection in all Europe
Oddcoll is a platform with Debt Collectors worldwide, enabling internationally- oriented companies to recover their overdue invoices with ease.

Applies to all our partners
– Legal authorization to recover claims in their countries
– B2B Collection Specialists
– Communicates in English
– Experts in their national debt recovery legislation