Overdue Payments: 6 Professional and Effective Strategies for Requesting [2023]
If you are tired of chasing your clients for overdue payments, you are in the right place! In this article, we will tell you the best tips you can implement to solve this problem effectively. Undoubtedly, it is one of the most frustrating situations for any business, so we tell you, get ready to get your money back!
What is an overdue payment?
An overdue payment is a payment that is not made within the time frame established in a financial or contractual agreement. Generally, a payment is considered late if it has not been received within 30 days after the agreed due date.
Late payments can cause financial problems for companies, as they can affect their cash flow and their ability to meet their own financial commitments.
In addition, chasing late payments can be a stressful and time-consuming process for business owners. For this reason, it is important to have effective strategies for requesting late payments and maintaining good customer relations to avoid situations like this.
When and how to ask?
First of all, it would be best if the client can pay after receiving the invoices (we recommend you to read bill vs invoices), but this is not always the case. However, it is essential for the cash flow of your company to receive payment on time, since, in this way, you will be avoiding delinquent or overdue accounts.
You can implement a payment reminder before the due date, but avoid doing it later. In fact, we recommend sending the reminder a week before.
We know it's hard to ask for payments, but the secret is to always have a professional tone in all your reminder letters or emails.
We recommend you to be friendly and polite, since a rudely worded message can damage your relationship with the customer. Here's how to do it:
 Related article: What is an Invoice
How to ask? Follow this steps
Send a reminder 5 days before the due date
Subject: Invoice payment reminder
Dear [Client's name],
I hope this email finds you well. I am writing to remind you that the invoice [Invoice number] with a due date of [Due date] has not yet been paid.
I would appreciate if you could make the payment as soon as possible, so that we can maintain a good business relationship. If you have any questions or problems regarding payment, please feel free to contact me so that we can solve it together.
I look forward to hearing from you.
Best regards,
[Your name]
Why is this email effective?
It is a very brief and respectful reminder. This allows the client to make quick decisions and not take time away from personal obligations.
If there is no answer in 5 days remind them again
Subject: Second invoice payment reminder
Dear [Client's name],
I hope you are well. I just wanted to follow up on the issue of the [Invoice Number] invoice, which is still outstanding.
I am concerned that some problems or misunderstandings have arisen regarding payment, so please contact me as soon as possible to discuss and seek a solution.
I look forward to hearing from you soon.
Sincerely yours,
[Your name]
Why is this email effective?
Due to the late payment, you have every right to sharpen the tone of your reminder. Incorporate the necessary details such as the amount and the invoice number. Remind them how many days have passed since the due date and what the date was. Now, never stop being polite, since you don't know what complications your customer may have.
If there is no response within 10 days after the first email, remind them again
Subject: Last invoice payment reminder
Dear [Client's name],
I hope this email finds you well. I am sorry to have to keep harping on the issue of the invoice [Invoice number], but I must remind you that it is still outstanding.
I understand that unexpected problems may have arisen, but I would like to communicate with you as soon as possible to discuss them and find a solution that works for both parties.
Please let me know if I can be of any further assistance.
Best regards,
[Your name]
Why is this email effective?
At this point your reminder should have a direct tone. After so many days you should require payment with absolute pressure. On the other hand, it is important to be brief so as not to distract the customer, and ask him to confirm whether he received your previously sent reminders or if he has misplaced the invoice.
How to deal with late payments?
Settle invoices immediately
We do not recommend waiting until the invoices are due to be processed. The best option is to settle invoices upon receipt, as this allows you to have a better organization and management of expenses, as well as to allocate funds to specific recipients to start the process immediately.
On the other hand, if settling invoices immediately is an obstacle for you, you should consider scheduling payments. And to make this work, take into account the number of days it takes for the payment to be debited from the recipient's account to ensure receipt of payment.
Automate your Accounts Payable process
By automating your accounts payable processes, you can increase speed, quality and accuracy. By eliminating any manual processes, you will avoid lost invoices, negative cash flow and double or late payments.
Therefore, we recommend investing in an accounts payable software that integrates with your accounting system and completely eliminates manual data entry and possible errors. As well as an international debt collection agency like Oddcoll, where you can save a lot of time in managing outstanding payments. If you see that your client does not pay the debt, Oddcoll assures you to be paid. Do not hesitate to contact them.
Tips to keep in mind
Communicate with the customer: It is important to communicate with the customer as soon as a late payment is detected. There may be a valid reason for the delay and a simple call or email may be enough to resolve the problem.
Be courteous and professional: Although it can be frustrating to chase late payments, it is critical to maintain a professional and courteous attitude at all times. Being aggressive or rude will only make the situation worse.
Establish a written agreement: It is always advisable to establish the terms of any agreement in writing. This includes payment terms and any other conditions related to the transaction. This way, both parties have a clear understanding of what is expected.
Request a payment term: If the customer is unable to pay immediately, consider requesting a payment term. This can help alleviate financial pressure on the customer and give them time to meet their obligations.
Bring about mediation: If things get difficult, consider using a mediator. A mediator can help you reach an amicable agreement without resorting to legal action.
Don't threaten legal action right away: Threatening legal action right away can put the other party on the defensive and make it difficult to resolve the problem. Instead, try to resolve the problem amicably and if necessary, consider legal action as a last resort.
Conclusion
Late payments can be a source of stress and financial problems for any business. However, it is important to remember that there are effective strategies for requesting late payments and maintaining good customer relationships.
Communicating with the customer, establishing written agreements, requesting payment terms and exploring mediation options are some of the steps that can be taken to resolve late payment problems.
In addition, it is critical to address late payments in a professional and courteous manner at all times, avoiding threats and maintaining an open attitude to problem resolution. By following these strategies, you will be able to recover your money and maintain healthy relationships with your customers.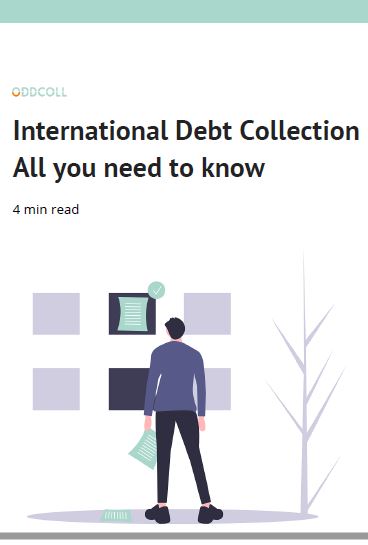 4 min read.

  What regulations apply.

  The international collection process.

  How to achieve effective debt collection.
Oddcoll is a platform with Debt Collectors worldwide, enabling internationally- oriented companies to recover their overdue invoices with ease.

Applies to all our partners
– Legal authorization to recover claims in their countries
– B2B Collection Specialists
– Communicates in English
– Experts in their national debt recovery legislation