How to Collect Past Due Invoices Step by Step [2023]
Firstly, these are actions you can take yourself when the invoice falls due. (If you want to try to collect the claim yourself before seeking professional help.)
Act as soon the foreign invoice is due! Start out friendly and progress towards a more "threatening" tone!
Step 1. Payment Reminder
Issue maximum two reminders. (To not undermine the seriousness).
Never write "first reminder" (or similar). It makes it clear that there will be further.
Be clear that the consequence of non-payment is the initiation of escalated steps.
You can start out with a "friendly reminder" that is soft and friendly and follow up with a more formal "notice of default".
Step 2 Follow up with a telephone reminder
Focus solely on settlement of the claim. (Do not discuss other matters in this conversation)
Refer directly to the overdue payment and ask about the reason for the overdue payment.
Ask when the customer will make the payment. Insist on a concrete response.
Always follow up on potential agreements/promises (both for full payments and instalment plans) by e-mail or mail, as documentation upon further actions, should the debtor not fulfil the obligation.
Once you have acted promptly against your customer, he will hopefully pay you, or at least give you an explanation why the payment is overdue.
So how should you react to different responses from your customer?
Default in payment can always be traced back to one of these three reasons, your customer; forget to pay, cannot pay, or, refuse to pay.
A. Forget to pay;
You obviously want to give the debtor a chance to pay.
B. Cannot pay;
You can consider an instalment plan or give a Discounted price in case of instant payment, or; You can send the case directly to a Debt Collector to ensure that your claim gets prioritized by your customer. (Cross-border claims otherwise tend not to be prioritized by companies when facing liquidity problems.)
C. Refuses to pay;
If the debtor contests the claim – You might want to initiate legal actions immediately.
If the debtor, simply ignoring to pay without stating the reason – you need to send the case to a Debt collector to put some pressure on the Debtor.
So, what if, despite your efforts, the debtor still does not pay.
Then it is time for you to hire professional help!
Engaging a third-party.
A Debt Collection Agency, or A Law Firm?
Both law firms and debt collection companies can help you collect uncontested claims.
What is customary to use differ from country to country, which makes it difficult to provide a uniform answer to the question.
In general, if the debtor contests his payment obligation – legal assistance should be sought.
In your own country, or in the debtor's country?
Make sure that the professional you pick ensures local coverage in the same country as the debtor is located in.
Collection activities are regulated at the national level to protect debtors from unscrupulous companies and prohibited practices. Authorization is almost always needed for conducting debt recovery.
Consequently, a third-party Debt Collector is almost never allowed to conduct collection activities abroad themselves, and they too must assign a local professional for the task.
A Debt Collector with local coverage collects the claim much more effectively due to their knowledge of local procedural laws, recovery practices, etc.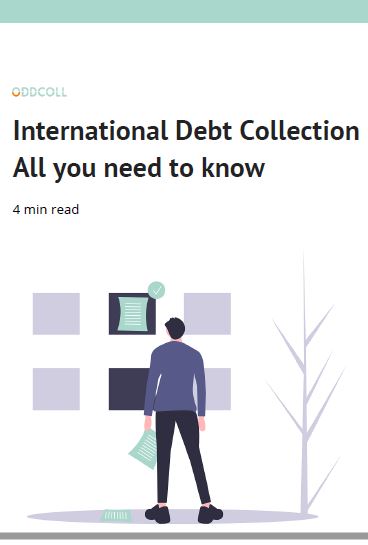 4 min read.

  What regulations apply.

  The international collection process.

  How to achieve effective debt collection.
Oddcoll is a platform with Debt Collectors in every European country, enabling internationally- oriented companies to recover their overdue invoices with ease.

Applies to all our partners
– Legal authorization to recover claims in their countries
– B2B Collection Specialists
– Communicates in English
– Experts in their national debt recovery legislation