Debt Collection in Latvia
Debt collection in Latvia that is conducted locally.
Risk-free. Pay only upon success.
9,5 % in commission.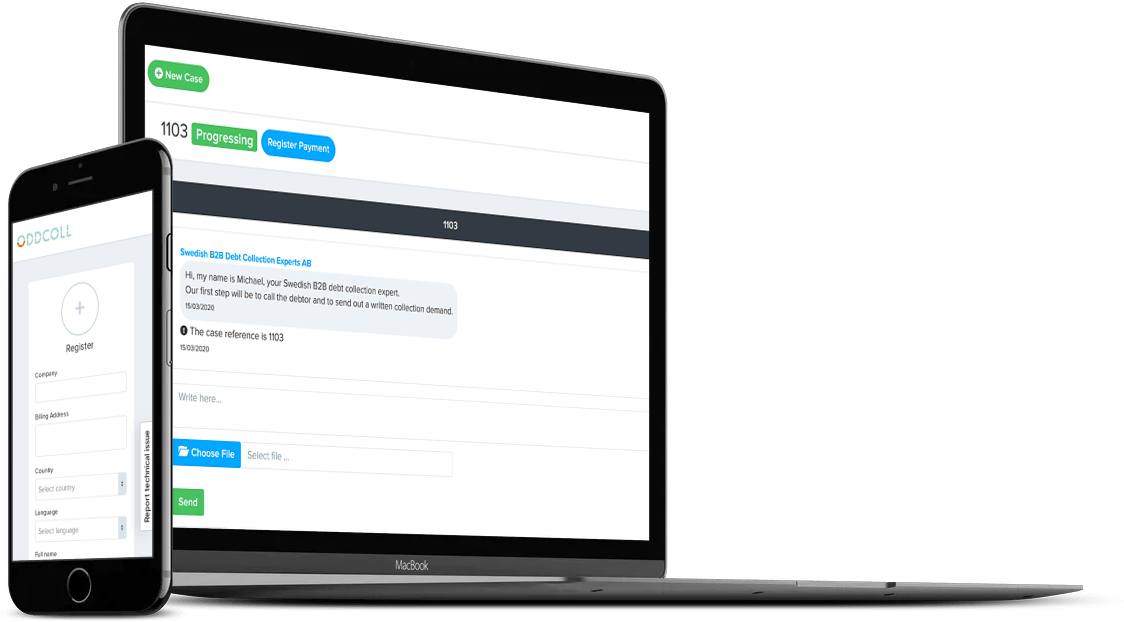 Debt collection that is carried out locally in Latvia.
Do you have clients in Latvia who do not pay your invoice? We can help you quickly and easily with debt collection in Latvia. Read on to see how.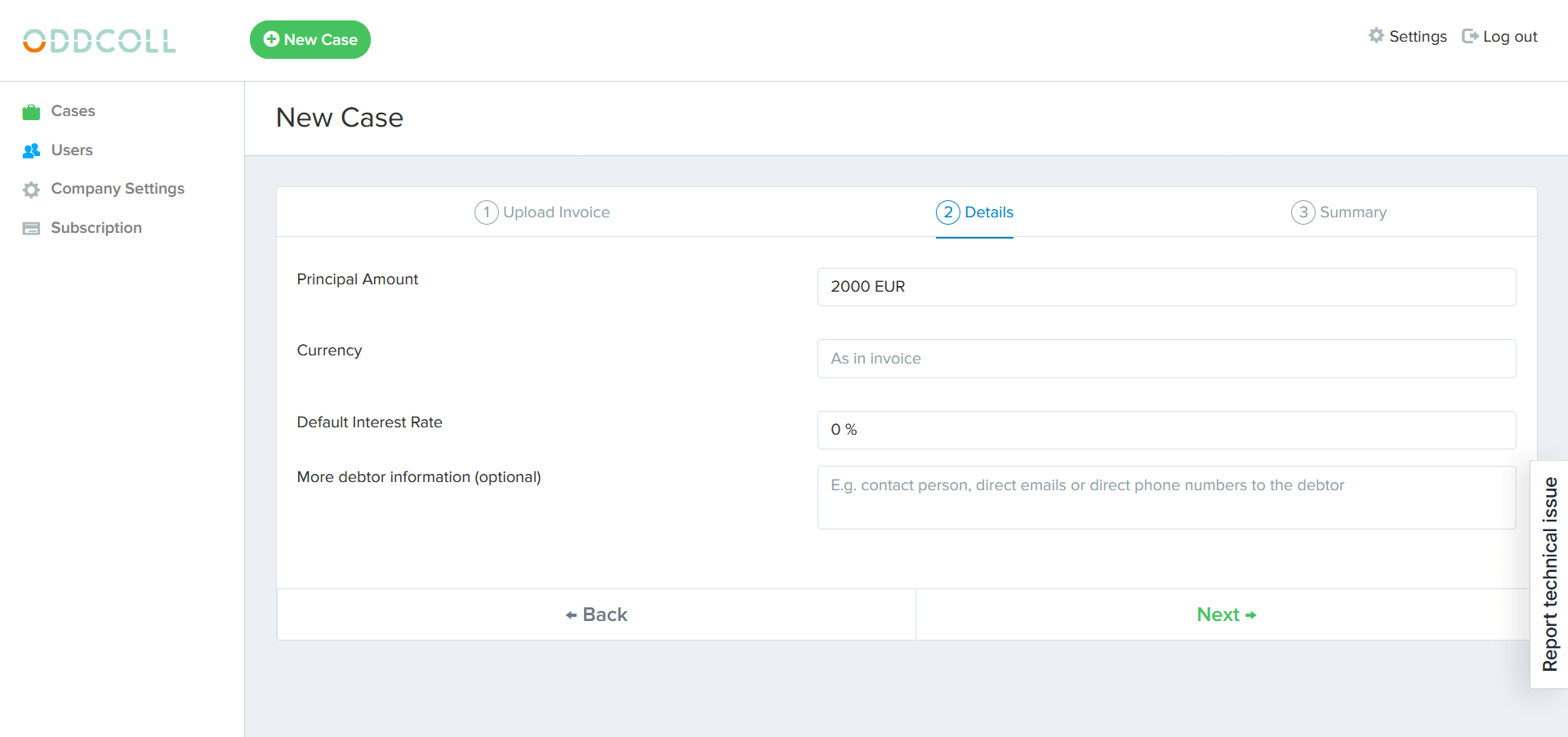 Start your case against your Latvian debtor by uploading your unpaid invoice to our debt collection platform.
Our local Latvian debt collection agency, IGK A.G., will start collecting your money.
As soon as the debtor has paid, the money is transferred to you.
A few reasons to choose Oddcoll for debt collection in Latvia.
A Latvian debt collection agency that works on your case on the spot where the debtor is located.
Expert in national Latvian rules on debt collection.
Speaks the same language as your debtor.
Oddcoll helps creditors like you who have debtors in countries other than your own. We know how difficult it can be to get a customer abroad to pay. As a creditor in another country, you have no leverage.
We have solved this problem by creating a debt collection platform with the best local debt collection agencies and law firms around the world. This means that when you create a case with us, a local debt collection agency will work on your case, no matter where in the world your debtor are located.
For Latvia, this means that our local Latvian debt collection agency, IGK A.G., with extensive experience in Latvia, will work for you.
Our debt collection agency in Latvia.
In Latvia, we cooperate with the local debt collection company IGK A.G. They will work on your Latvian case as soon as you upload the claim on our debt collection platform.
– Could you briefly describe your company?
IGK started its business in 1990 and since then operates in the field of credit management services with 3 main business lines: credit information (credit rating, reports); debt collection and legal services; broker for credit insurance.
– Can you give us an overview of the collection process in Latvia / What actions are you taking in the amicable stage of debt collection?
After the receipt of a case for amicable collection we first of all make a background check of the debtor company and gather as much information on the company as possible (registration data, negative information, contact data, related companies). We check the debtor's official status and we continue monitoring it throughout the collection procedure. Then we send a first claim letter via post and email for the attention of the responsible persons and we make a first phone contact usually after 1-2 days max. Then we proceed with the phone contact as well as written reminders (via email, messages, post) until the debt is collected or there is a decision to take the case to the next (legal) stage. We also make site visits, if necessary, but at an additional charge.
When collecting the debt amicably we use IGK main strength that distinguishes us from a simple collection (incasso) company, namely, we inform the debtor about the cancellation of their credit limit in our credit rating system, unless they take measures to cover the debt as soon as possible. IGK is a credit rating agency that supplies credit information to the majority of the world credit insurance companies, as well as banks and final clients (businesses), so a record of a bad debt and an annulled credit limit in our system will not allow the debtor to continue receiving goods or services at a deferred payment basis. Therefore, usually, if the debtor is not entirely bankrupt and if the debtor wishes to continue doing business, they care to settle the debt problem as soon as possible as in order to keep their credit history in good order.
– How does it work in Latvia when you need to take legal action?
There are several types of court procedures that we can run in Latvia. If the debt is below 15.000 EUR, we can proceed with the simplified (fast) court procedures at lower cost and with less requirements towards the claim supporting documentation. If the case is disputed or the debt amount is higher than 15.000 EUR we can apply via standard court procedure. In addition to this we can proceed with the bankruptcy initiation claim to the court, if the debt amount is 4268 EUR and higher (for SIA and AS legal forms, which is LTD and JSC).
– If you are taking legal actions in a case and you win in court, can the costs for legal actions that the client has paid for be added to the debt?
Yes, some costs can be collected from the debtor, for example court tax fee, but also some legal costs as well. However, the exact amount is determined by the court in each case individually.
"Judicial" debt collection in Latvia.
Sometimes it is necessary to use judicial debt collection in Lithuania when a debtor does not pay a debt. The following is a brief description of the structure of the legal action system in Latvia.
Which court in Latvia is appropriate to turn to in case of legal debt collection?
In civil cases, district courts (rajona tiesa) and city courts (pilsētas tiesa) are usually the first instance. An action against a natural person must be brought before the court in the place where the person is domiciled. An action against a legal person must be brought before the court where the legal person has its seat.
The limitation period for claims arising from commercial transactions is generally three years. This means that a creditor must bring an action before the court within three years from the date on which the claim arose.
The lawsuit for your Latvian debt collection case must be sent to the court of first instance that has jurisdiction. The application must be in writing and submitted by post. All procedural documents must be submitted in Latvian.
Court costs need to be paid before a lawsuit is filed. These are a state fee (valsts nodeva), a registry fee (kancelejas nodeva) and costs that are necessary for the examination of the case (ar lietas izskatīšanu saistītie izdevumi).
The order for payment procedure in Latvia.
In Latvia, there are two simplified litigation options for judicial debt collection. (These are alternative forms of litigation to the ordinary civil procedure in court.)
The undisputed enforcement of obligations (saistību bezstrīdus piespiedu izpildīšana,) and the enforcement of obligations on court notice (saistību piespiedu izpildīšana brīdinājuma kārtība,)
The one that is particularly relevant for litigation between two commercial parties is the enforcement of obligations on court notice. There is no upper claim limit for using this procedure.
A debtor has fourteen days to decide on the creditor's claim. If an objection is raised to the claim, the order for payment procedure is terminated. However, a creditor may choose to take the case to the ordinary civil procedure. If no objection to the claim is made within the time limit, an enforcement decision is taken within seven days. This means that the claim is legally established and the creditor has the possibility to apply for enforcement. The judge's decision on the enforcement of the payment obligation specified in the application takes immediate effect.
Small claims procedure in Latvia.
Another variant of a simplified procedural procedure is available which can sometimes be suitable for legal debt collection in Latvia. It concerns disputes where the amount does not exceed EUR 2 100.The court costs, which are paid to the court, for this procedure are 15% of the amount of the claim, but at least about EUR 71. The small claims procedure has some simplified exceptions compared to the ordinary litigation procedures and is therefore simpler and quicker for a creditor.
Enforcement of judgments in Latvia.
This could be said to be the last step in judicial debt collection in Latvia. This refers to situations where a creditor has obtained a judgment earlier in the legal process but is still awaiting payment from his Latvian debtor. Enforcement then becomes a final step where Latvian authorities forcibly transfer assets from the debtor to the creditor.
In Latvia, court bailiffs (Zvērināti tiesu izpildītāji) are responsible for the enforcement of court decisions. They are professionals with a legal background who are employed as state officials. They are attached to a territorial court and perform their duties within the jurisdiction of the court.
We can help you quickly and easily with debt recovery in Latvia. Get started today!
See how easy it is to get started with your case!
Oddcoll is a service for international debt collection.
We make it easy for companies to get paid from their customers abroad.