"Governing Law" and "Competent Jurisdiction" clauses in International sales contracts
In international commercial contracts, the contracting parties are located in countries with different jurisdictions and legal systems. So in case of a potential dispute between the parties, the question arises, where do I turn to resolve the dispute? And what legal system will be used when settling the case?
These issues can be regulated in the contract between the parties. In other words, in a commercial agreement, the parties can decide in advance where the dispute will be settled and what law to apply.
And there are some negative consequences if you do not….
Time and money are spent on;
Find the right court,
Having a judge determine the applicable law (based on the parties involved and the circumstances in the case)
And in the absence of a choice of governing law and competent jurisdiction, it may not be possible to determine in advance whether you even have a case and are likely to win in court. It is much easier to act quickly and correctly when you know the prerequisites.
To keep in mind when choosing "governing law".
Which country's law meets your interests best?
One's own law is of course often preferable as one is familiar with it.
It may be advisable to take legal assistance to look at potential consequences of the contract if you choose to apply another country's law.
To keep in mind when selecting jurisdiction.
Where are the counterparty's assets located if a judgment must be enforced? AND can a judgment from the chosen jurisdiction be used in the enforcement proceedings in the country where the assets are located?
Does a legal process in another country involve implications and additional costs?
As an alternative to settling the dispute in a national court, the parties are free to choose arbitration.
The benefits are a fast and confidential process that can be tailored to the interests of the parties. The disadvantage is the high costs of arbitration.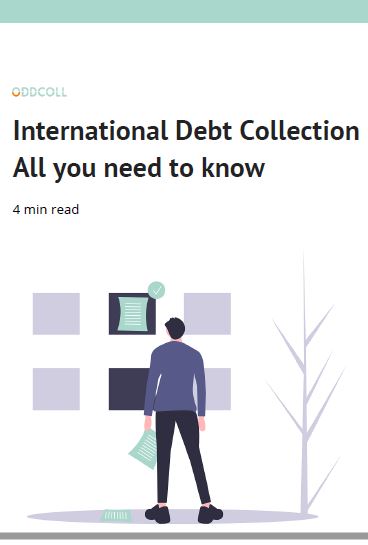 4 min read.

  What regulations apply.

  The international collection process.

  How to achieve effective debt collection.
Instant Debt Collection in all Europe
Oddcoll is a platform with Debt Collectors worldwide, enabling internationally- oriented companies to recover their overdue invoices with ease.

Applies to all our partners
– Legal authorization to recover claims in their countries
– B2B Collection Specialists
– Communicates in English
– Experts in their national debt recovery legislation