Bill vs Invoice: Main Differences You Should Know
Add Title
Have you ever received a bill and an invoice? Do you know the difference between the two? Although they are often used interchangeably, it is important to know the differences between the two to avoid confusion and problems in the debt collection process. In this article, we will explain in detail what a bill is and what an invoice is, as well as the key differences between the two. 
What is an invoice?
It is a document that details the products or services that have been purchased and the total amount to be paid for them. In general terms, an invoice is a document used to record and request payment of an outstanding debt. 
An invoice is a digital document where the description of the service or product is indicated, as well as the expiration date. If any inconvenience occurs, an invoice serves as a legal document to support any type of claim. It is also used to include payment or shipping instructions, which can be authenticated through a reliable electronic signature system. 
An invoice must contain the following data:
Identification information:

In this section you should add the company's information and the customer's information, such as name and their address, however, you can also request the phone number and email.
Quantities:

Items should be ordered with their respective amount, since, at the end of the list, all prices are added together, resulting in the total amount.
Description of goods or services:

Explanation of all goods and services to be offered. They should be clearly described to avoid possible misunderstandings.
What is a bill?
A bill is known as a formal record where purchase information such as items, state, government or local tax and prices are indicated. All companies conducting transactions can use a bill to record the purchase and customer information.
On the other hand, it is sent after the end of the transaction, in order to have a means of communication, where the total prices are expressed. 
A bill must contain the following data:
Contact:

Customer and business information. There is no limit within this section, which means that it is possible to expand if necessary.
New invoice:

It works as a reference to differentiate it from subsequent invoices.
Date:

Date of the transaction.
Total:

The total of services and goods.
Bill vs Invoice Differences between invoice and bill?
Bill and invoice are terms that refer to documents used in commercial and financial transactions. Although they are often used interchangeably, there are some subtle differences between them:
Different terms for a single document
A bill and an invoice are references to the same document, but different terms are used to refer to it, depending on which side of the business transaction you are on. 
An invoice is a document that contains information about how much money is owed by a customer. It is considered as an invoice from the company that has offered goods and services to the customer. Now, the customer who receives this invoice, takes it into account as a bill to be paid.
Take a look at this example of how these terms are implemented in accounting:
 A private language school will send a student an invoice for the course he/she wishes to take. The student will receive this invoice as a bill and pay the corresponding amount. The school will then send the student a receipt as proof that the invoice has been paid. A bill itself is a document that indicates the amount due for a good or service that has already been delivered.

 For example, if you go to a restaurant and order food, the restaurant will give you a bill at the end of the meal, indicating the prices of the food, drinks you have consumed and the total payment.
Different documents, different states
As an invoice is a formal document that is issued before or after the delivery of goods or services. It is used to request payment and provide specific details about the products delivered. The following data must be included:
The word "invoice  

Unique invoice number

The date of issue

The due date of the invoice

Your address and contact details (must include price and a short description)

Customer contact information 

Details of goods or services rendered 

Payment terms

The appropriate total amount
Although it is also possible that VAT (Value Added Tax) information may be included, as well as industry-specific deductions such as CIS (Construction Inductry Scheme).
However, bills often contain less information, as they show only limited details about payment and taxes. In fact, it is possible to omit information about the customer.
When you receive an invoice from a restaurant, it does not mean that it is a formal document. Since, its data can be limited to the table number, drinks and food, VAT and total. In other words, the formality of an invoice would not apply in this case.
Why is a bill less formal than an invoice? This is because bills are generally used for one-time transactions, which means that the buyer pays when the order is placed and the goods and services are received.
When is a bill used? 
A bill is used to confirm that payment has been received and functions as a proof of transaction. They are used to keep an accurate record of transactions and for accounting and tax purposes. Generally, it is issued by the supplier of the goods or services and is addressed to the customer who has executed the payment. 
When is an invoice used?
An invoice is used to establish payment terms and transaction details prior to delivery of the product. It is used to establish an outstanding debt and also for accounting and tax purposes. In addition, it is issued by the supplier of the goods or services and is addressed to the customer. In conclusion, it establishes the payment terms and details of the transaction before proceeding with the delivery.
Which one is better to use?
This depends on the type of transaction you wish to implement, since, as mentioned above, a bill is used when an informal record is not necessary. On the other hand, an invoice requires specific and much more detailed information.
Whatever your case may be, study what type of registration suits your needs.  We remind you that if your customers have overdue payments (read the article payment reminder email) and you have been chasing them for months to make the payment, Oddcoll is an international debt collection agency that ensures you get paid and does it for you. It is very simple, it works in three easy steps. They also operate internationally in many countries: debt collection in Germany, debt collection in Malaysia, debt collection in Philippines etc…
Just follow the steps and you will be relieved of a lot of work in just minutes. Don't think twice, automate your debt payment and save hours of work! 
Do you recommend an Invoicing software to automate invoicing?
The answer is yes, because it allows you to automate the work and save time and effort in the invoicing process. Invoicing software will help you create and send invoices quickly and efficiently, which can help you improve the efficiency and productivity of your business.
In addition, a software can also help you keep track of your invoices and outstanding payments, which is ideal for keeping more accurate control of your cash flow and avoiding debt collection problems. It can also help you generate important reports and statistics about your finances, which can help you make more informed decisions about your business.
However, it is critical that you select reliable and secure invoicing software that suits your specific business needs. When choosing an invoicing software, review its functions and features to ensure that it meets your requirements. It is also important to consider the cost of the software and make sure it fits within your budget.
In fact, there are tools that allow you to do the following:
Customize and create professional invoices.

Send invoices from your cell phone.

Send reminders to your customers.

Integrate accounting software and manage your finances.
Are you ready to automate your work? 
Conclusion
Understanding the differences between an invoice and a bill will help you avoid confusion and problems in debt collection. While an invoice is issued prior to the delivery of a good or service and details the terms of payment, a bill is issued after payment has been received and simply confirms that it has been accepted.
On the other hand, to avoid debt collection problems, it is crucial that you set clear payment terms and communicate them clearly to your customers. In addition, it is also critical that you keep accurate records of all transactions and have a payment tracking system in place. By following these tips, you can avoid confusion and problems with debt collection and ensure a healthy cash flow for your business.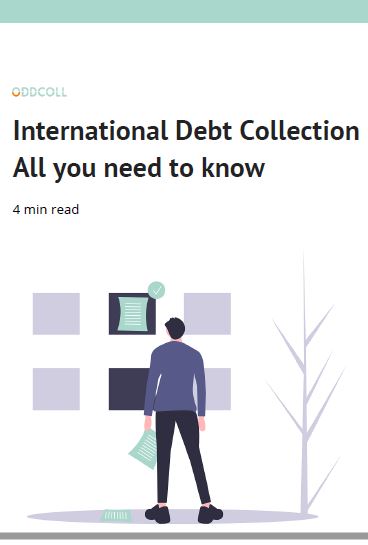 4 min read.

  What regulations apply.

  The international collection process.

  How to achieve effective debt collection.
Oddcoll is a platform with Debt Collectors worldwide, enabling internationally- oriented companies to recover their overdue invoices with ease.

Applies to all our partners
– Legal authorization to recover claims in their countries
– B2B Collection Specialists
– Communicates in English
– Experts in their national debt recovery legislation