Debt Collection in Portugal
Debt collection in Portugal, conducted locally.
Risk-free. Pay only upon success.
9,5 % in commission.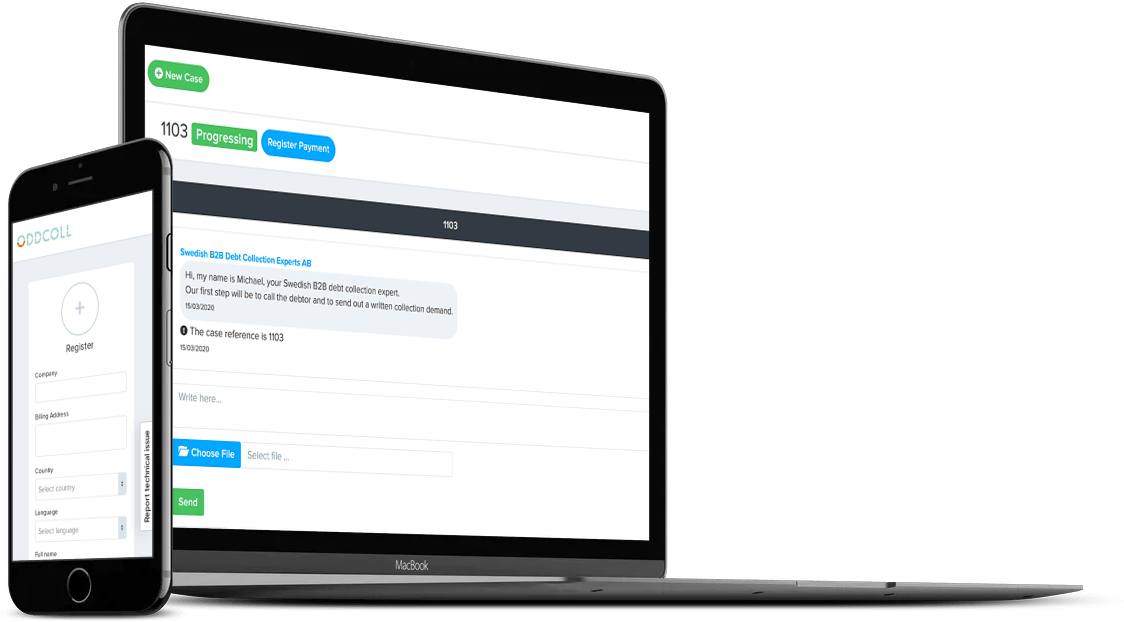 Debt Collection services against Portuguese debtors.
Do you need help with debt collection in Portugal? Do you have a problem with a non-paying Portuguese customer? Oddcoll can help you get paid. Quickly and easily. Read on to see how.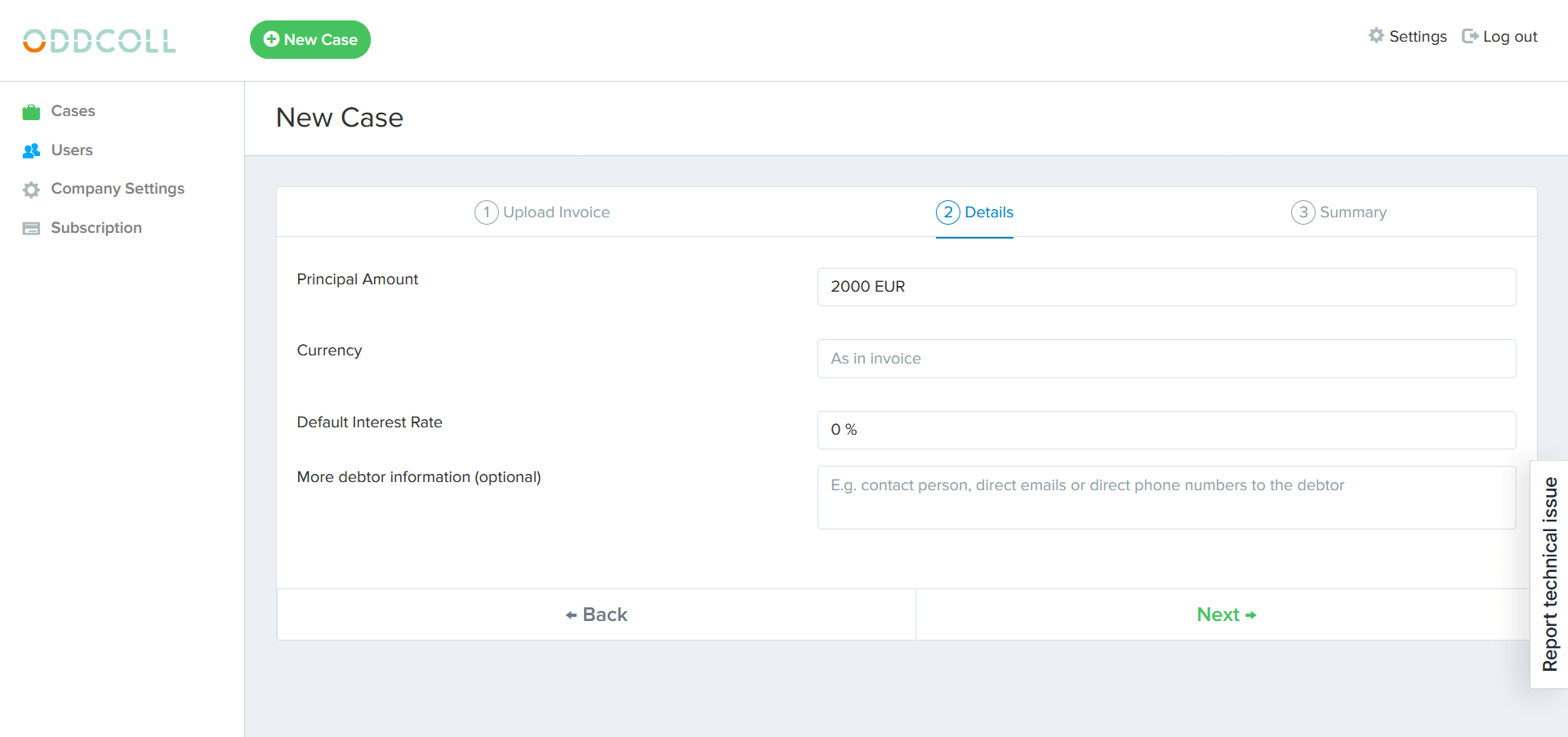 Upload – Follow your case – Get paid.
Upload your unpaid Portuguese invoice.
Our law firm in Portugal starts the collection process in Portugal.
Why use Oddcoll for debt collection in Portugal?
Direct access to the expertise of a local law firm in Portugal.
Full knowledge of local Portuguese laws and customs.
Completely risk-free debt collection. You pay nothing if we don't succeed.
A more modern approach to international debt collection.
Companies selling abroad often know how difficult and time-consuming it can be when customers abroad don't pay. There is no leverage with the customer when you are located in another country.
At Oddcoll, we have solved this problem with an international debt collection platform that brings together the best local debt collection agencies and law firms around the world.
Your case in Portugal will therefore be recovered by our local Portuguese law firm. And all you have to do is create an account with us and upload your invoice.
Our Law Firm in Portugal.
Portuguese debt collectors are the only ones familiar with the national laws that apply in Portugal, which gives you the best chances to get paid.
We are proud to be partnered with the local Law Firm GNC – Advogados Associados – Lawyers and Barristers.
Introduce your company in a few sentences.
Castilho is based in Portugal and Spain and the main objective is to achieve the effective payment of debt keeping in mind two core principles: the efficient and timely payment of invoices and the encouragement of international confidence in the Portuguese, Spanish, Brazilian, and LATAM markets.
We manage B2B, B2C, NPL, and government or commercial debts, where our main clients are national and international companies from different sectors, such as fashion and footwear, agribusiness, public and private services of national and international utilities (water and telecommunications, but also hospitals and town halls).
In how many cases do you manage to get paid?
Between 65% – 85%
Describe the debt collection process (out of court). What do you do in order to get a debtor to pay, step by step.
These are confidential steps, but we can say that it is done by letter, telephone contact, SMS, and video in some of the cases. With an intensity of communications.
What does legal actions cost?
It depends on the case, but for Portugal, it is very competitive.
If you take legal actions in a case and win in court, are you able to always add the legal costs that the client has paid to the debt and it will be paid by the debtor?
Yes it is possible and we always do it that way.
Need help with Debt Collection? Fill in your information and we will contact you within 24 hours.
Judicial debt collection in Portugal.
For cases where you need to proceed with legal debt collection against your Portuguese debtor. Then our law firm in Portugal can help you.
Where do you sue a Portuguese debtor?
You sue other natural persons in the court where the other party is domiciled. If there is no known domicile of the defendant, the lawsuit can instead be filed with the court of the plaintiff's domicile.
If the other party is a company instead of a natural person, the company is sued in the court where it has its main address.
Portuguese is the language used in court proceedings. This means that documents in other languages need to be translated. It also means that an interpreter may be needed if a non-Portuguese speaker is involved in the proceedings.
Order for payment in Portugal.
What is an order for payment?
An order for payment is a legal process that is ideally suited to debt collection cases in Portugal. The process as such exists in some form in most countries and aims to make the process for less complicated disputes, simpler, cheaper and quicker.
What makes it particularly suitable for judicial debt collection in Portugal is that this process is applied to concrete claims for payment in cases that are not contested by the debtor.
If the debtor does not contest the claim submitted to the court by means of an order for payment, the court can issue an enforcement order (título executivo). This acts as legal proof that you do indeed have a claim against your Portuguese debtor. It can also be used in enforcement proceedings against the debtor.
What are the criteria for using the order for payment procedure?
The order for payment procedure in Portugal can be used in the following debt collection cases:
– The maximum amount of claims arising from contact is €15,000.
– There is no upper limit for claims arising from commercial transactions.
The use of this method is entirely optional and a creditor can instead use the normal court procedures available in Portugal for litigation. However, this is a better option for debt collection cases in Portugal.
The procedure:
In Portugal the ony competent body for Payment Orders, is the National Payment Orders Office (Balcão Nacional de Injunções), in Porto.
As a creditor, you have to present the facts underlying your claim at the time of application, but no evidence needs to be presented at this stage.
The debtor has 15 days to decide on the claim.
If the claim is contested, no judgment (enforcement order) can be issued. The case will then be dealt with as an ordinary court case.
If no challenge is made within the timeframe, a judgment is issued.
The recovery of a Portuguese claim through an enforcement procedure.
An enforcement procedure is where an administrative body assists in forcing a debtor to fulfil an obligation established by a judgment.
In the case of debt collection from Portuguese customers, this means that the Portuguese authorities will help you to recover your claim.
The precondition for this is that there is a judgment proving that the debt actually exists. A so-called "título executive". This must have been obtained by taking legal action against the debtor.
Normally, enforcement proceedings can have three different motives; the delivery of a specific object from the defendant to the plaintiff, the performance or nonperformance of a specific action. However, the most common motive (and the most relevant for debt collection cases in Portugal), is the payment of a specific sum of money.
In Portugal, the courts, together with enforcement agents, are responsible for enforcement cases.
Oddcoll can help you with debt collection in Portugal. Get started quickly and easily by creating an account. Do you have any questions about how debt collection in Portugal works or how to start your case? Do not hesitate to contact us today!
– Get advice from a collection expert
– Learn more about how our collection platform works
– Ask us about pricing
We will be in touch with you within 24 hours.
Oddcoll is a service for international debt collection.
We make it easy for companies to get paid from their customers abroad.