Debt collection in South Africa
Debt collection in South Africa that is conducted locally.
Risk-free. Pay only upon success.
19,5 % in commission.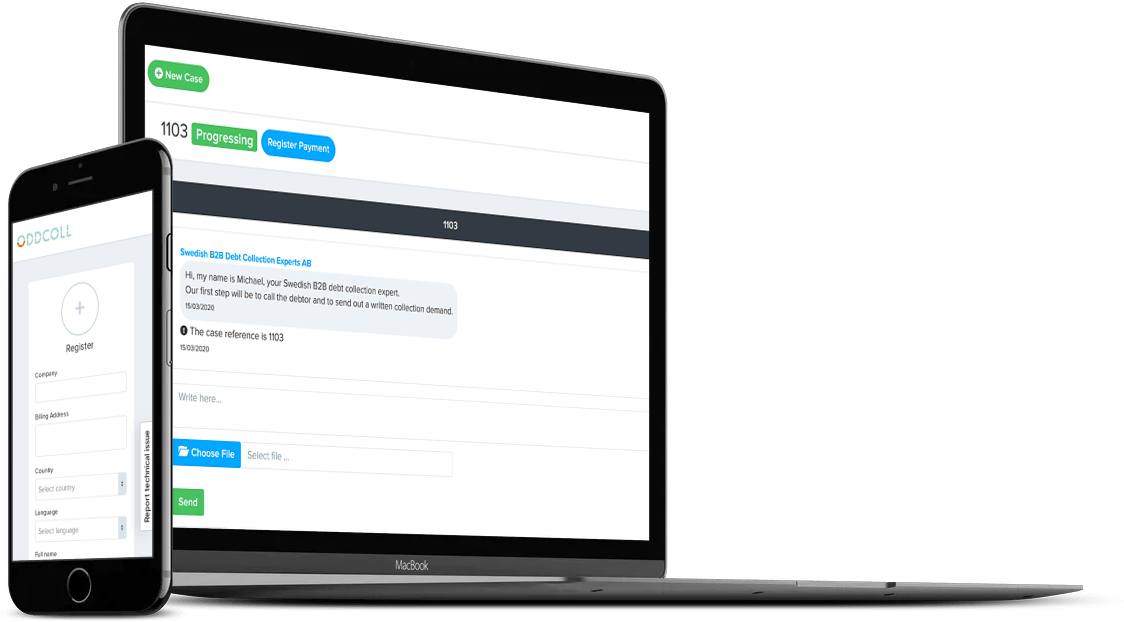 Debt collection in South Africa that is carried out locally by a South African debt collection agency.
Do you have business customers in South Africa who do not pay your invoices? Don't worry, we can help you with debt collection in South Africa. Quickly and easily. You'll be up and running in minutes. And by using Oddcoll to collect your South African debts, you give yourself the best chance of getting paid.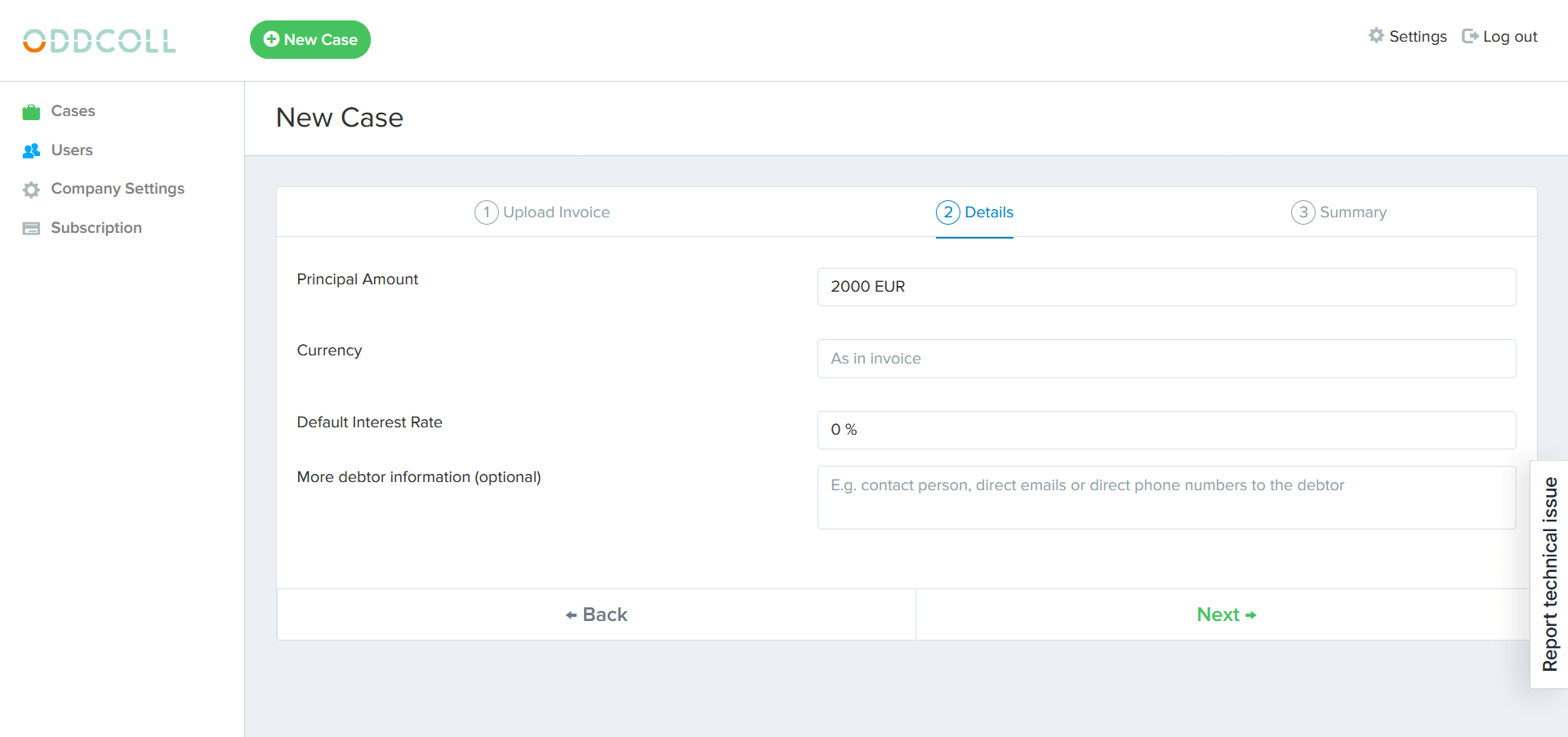 Start your case by uploading your unpaid invoice to our collection platform.
Our South African debt collection agency will initiate the appropriate recovery action directly on the spot in South Africa.
Once the work is completed and the debtor pays, the money is transferred to you.
Some benefits of using Oddcoll.
Local debt collection expertise in South Africa where your debtor is located.
Completely risk-free debt collection. Pay only if you get paid.
Specialist in debt collection against companies in South Africa.
International debt collection can sometimes feel hopeless.
This is because it is very difficult to collect invoices from your customers when they are in other countries.
The way in which debts are collected differs from country to country and it is the debtor's country that stipulates how to proceed and what laws apply to the process.
The bottom line is that you need to use a South African debt collection agency when collecting your South African debts.
Fortunately, by using Oddcoll, you can start your case in a matter of minutes, putting our South African debt collection partner to work immediately.
All you need to know about international debt collection in 60 sec.
Our local debt collection agency located in Southafrica who will directly initiate collection actions on the spot:
– Could you briefly describe your company?
Debtors Protection Legal Services (DPLS) is based in Port Elizabeth, South Africa with more than 24 years of debt collecting experience, which has enabled us to streamline our processes in line with our clients' individual needs. Our debt collectors are skilled in the latest debt recovery processes, software and practices, and use these to devise the most suitable collections strategy for each client. We are one of the leading collection services in South Africa and Africa.
• We specialise in collecting consumer and commercial debts from domestic and foreign debtors.
• We accept B2B (Business to Business) and B2C (Business to Consumer) debts.
• We collect in all African countries, including Mauritius and Seychelles.
• We work on a No collection, No fee basis.
• We operate on a pre agreed commission model.
• We are GDPR compliant.
• We currently provide our services to clients based in Europe, China, Singapore, Middle East and Africa.
– Overview of the debt recovery process in South Africa.
DPLS work flow process on each case is as follows:
1, When an overdue account is placed with DPLS it is assigned to an in-house agent that runs a preliminary investigation to identify debtor company officers, verify correct company address and contact details.
2, Once the preliminary information is gathered, it is assigned to an in-house collector who makes first contact with the debtor on the phone. If an amicable resolution is possible, we will make arrangements for payment.
3, If the first phone call does not result in a payment or arrangement, a demand letter will be drafted by our legal department and sent to the debtor.
4, Once the demand letter is received the in house collector contacts the debtor again. It is common that the debt is resolved at this point.
5, If the debt remains unpaid at this point, It continues to be worked by a collector in an attempt to gather additional information for our client and legal department in case a lawsuit is necessary [This option is only available through written authorization and request by our clients, DPLS takes no court action without clients authorization]
6, Request for site visit by client for a face to face collection by a field agent, should a field agent be available in the relevant country.
Judicial debt collection in South Africa.
The legal system in South Africa has influences from several different legal traditions and can be described as a mixed legal system. Influences in substantive civil law are mainly drawn from the Dutch, while rules on the conduct of civil legal proceedings are mainly drawn from the English legal tradition. In addition, there are influences from the African indigenous peoples.
​The courts.
The court hierarchy in South Africa is as follows: 
The Constitutional Court: The Constitutional Court is South Africa's highest court on constitutional matters. Legal debt collection cases in South Africa will therefore never come before this court.
Supreme Court of Appeal: The Supreme Court of Appeal is the highest court in South Africa in all other non-constitutional matters. The Supreme Court of Appeal hears appeals from the High Courts.
High Courts: the Provincial Divisions of the High Court of South Africa hear appeals from magistrates' courts in their area and act as the first instance in cases that do not fall within the jurisdiction of magistrates' courts.
Magistrates' Courts: These are lower courts that are spread throughout South Africa. Magistrates' Courts have limited jurisdiction and their functions are determined and limited by legislation. Magistrates' Courts are divided into:
– Regional courts.
Regional courts have jurisdiction to hear certain civil cases within a particular geographical region (under the Jurisdiction of Regional Courts Amendment Act 31 of 2008). They can hear civil cases where the value of the claim does not exceed Rs 400 000.
– District courts.
District courts are the most common lower court and are found in most cities in South Africa. In civil cases, the court is limited to hearing cases where the amount does not exceed R200 000 (unless the parties agree that the district court has jurisdiction).
Which court do I take my South African debt collection case to?
Which of the above courts should I go to with my South African debt collection case?
It depends on the particular circumstances of the case and it needs to be reviewed specifically for each situation. Factors that affect this include where the parties are located, the size of the claim, the cause of action, etc. Very often there is more than one competent court. The plaintiff can then choose which court he or she wants to sue in. Different litigation procedures are applied in different courts, but the differences are not that great.
Default judgment.
If a summons has been properly filed with the court in South Africa, it will be served on the debtor. Should the debtor fail to respond within the time limit, there is a possibility of a default judgment under certain circumstances. That is, a positive judgment based on a failure to respond.
A creditor must actively apply to the court for a default judgment.
A simplified procedure tailored to South African debt collection cases:
In South Africa, the "MCA" Act provides for a special simplified procedural option specifically designed for judicial debt collection in South Africa. It allows a creditor to obtain a judgment without first issuing a writ of summons. A special demand letter then needs to be sent to the debtor by the creditor's legal representative.
If the debtor admits liability, the creditor can proceed to obtain a judgment (with the same legal effect as a judgment) against the debtor.
Enforcement of judgments in South Africa.
After taking legal action to get paid for its South African debt collection case, the debtor will, in the best of all worlds, comply with the judgment and pay the debt.
Unfortunately, this is not always the case. Sometimes the debtor continues to default on the debt.
What you need to do in these situations, as a creditor, is to apply for enforcement of the judgment. You then apply to the court for them to help you transfer assets from the debtor to yourself. The process for this is set out in specific rules for the High Court and Magistrate's Court. The 'sheriff' of the court is responsible for the process and the process may involve the court using coercive means to transfer assets from the debtor.
If the debtor is insolvent (i.e. does not have the assets to pay the debt), insolvency proceedings such as bankruptcy may apply instead.
This is how our debt collection service works.
Debt collection in South Africa – get started today!
See how easy it is to get started with your case!
Oddcoll is a service for international debt collection.
We make it easy for companies to get paid from their customers abroad.