Debt collection in Malaysia
Debt collection in Malaysia carried out by a local debt collection agency.
Risk-free. Pay only upon success.
19,5 % in commission.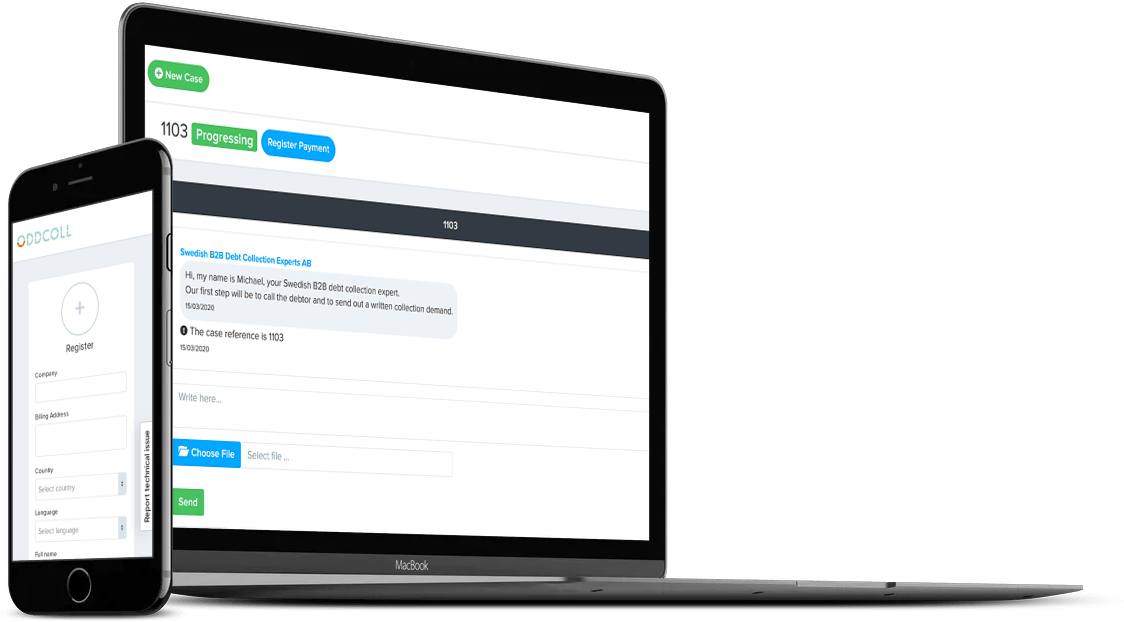 Effective and hussle-free recovery of debts from companies in Malaysia.
Get started today with the recovery of your debts from debtors in Malaysia. In just a few minutes, you can put a debt collection agency in Malaysia to work collecting your unpaid debt. Read on to see how!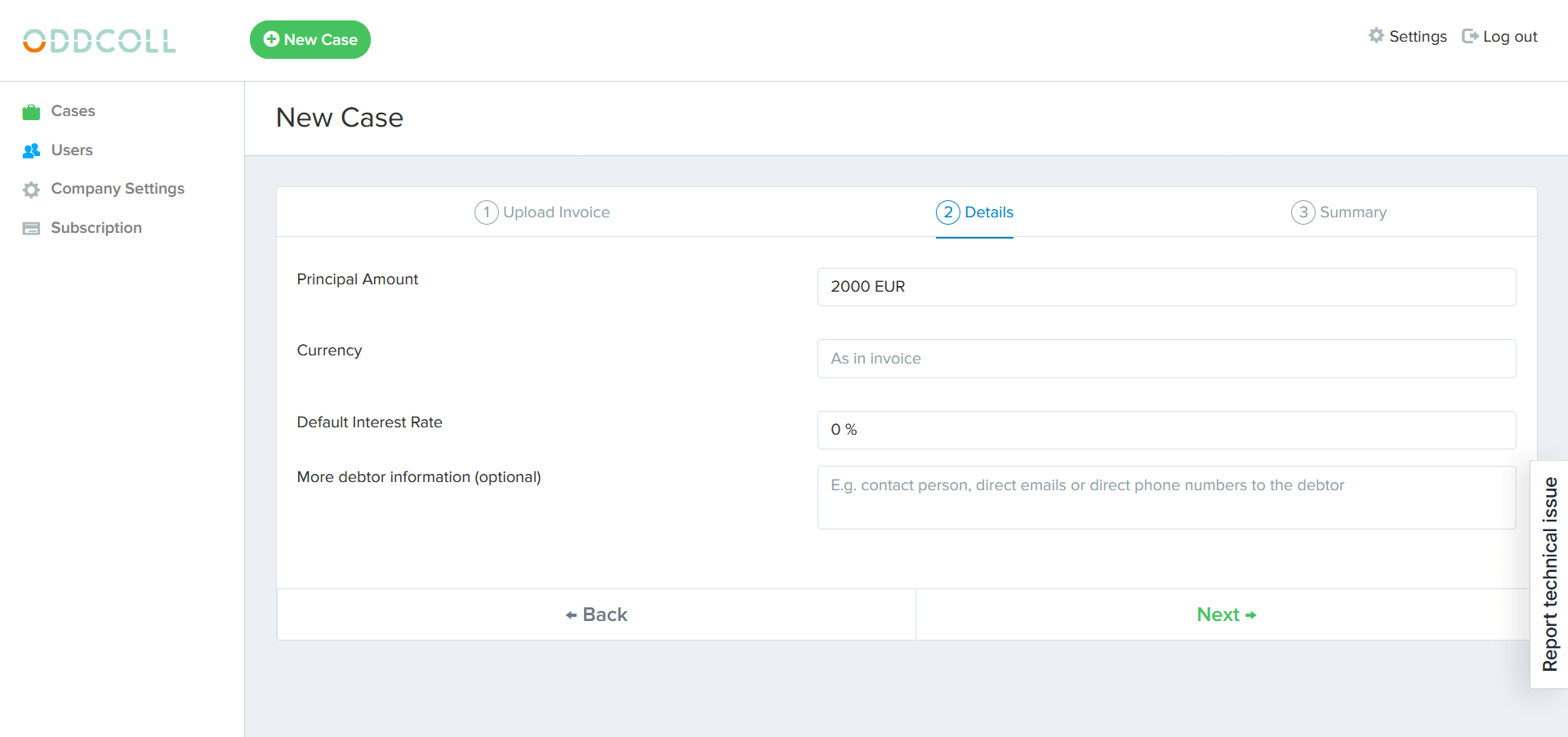 Debt collection in Malaysia in three easy steps.
You start your debt collection case against your debtor in Malaysia by uploading your claim to our platform.
Our Malaysian debt collection agency will then immediately initiate appropriate and effective action that works in Malaysia, against your debtor.
Upon our debt collection agencie`s successful collection of the debt, the money is transferred to you.
Some benefits of using Oddcoll.
Efficient recovery by a local debt collection specialist on site in Malaysia.
Easy to use web service for your cases.
You pay nothing if we fail to collect your debt.
What makes Oddcoll a good option for debt collection in Malaysia.
International debt collection is tricky as it is very difficult to try to get a debtor to pay a debt when you are in another country. A localised debt collection agency or law firm is needed. Someone who knows the local laws, customs and procedural routes.
We make sure that our clients are in the best possible position to get paid by their debtors, no matter where in the world they are located. We do this through a unique international debt collection platform that brings together the best debt collection agencies and law firms around the world.
This means that when you start your case with us, our quality-assured and selected debt collection agency in Malaysia will immediately start taking the necessary steps for debt collection on your behalf.
All you need to know about international debt collection in 60 sec.
Our debt collection agency located in Malaysia who will directly initiate actions for recovery of your claim!
We are excited to announce Upper Class Collections as our debt collection agency in Malaysia. They will immediately start collection actions in Malaysia when you start a case.
The debt collection process in Malaysia.
Below is some information on how the debt collection process works if you have a debtor in Malaysia. Payment is primarily sought through persuasion and negotiation. If that is not enough, you may have to go to court. If a debtor is insolvent and does not have enough assets to pay its debts, insolvency proceedings may also be considered.
Out-of-court debt collection in Malaysia.
First and foremost, debt collectors in Malaysia try to get paid by the debtor without having to go to court. Instead, through pressure and persuasion, to get the debtor to pay his debt.
How does this work?
The debtor is contacted by various means such as telephone, letter, etc., and it is made clear to the debtor that non-payment may result in the case being escalated to court in Malaysia.
When a local Malaysian specialist makes that kind of demand and describes the consequences in that way, the debtor is much more cooperative. A debtor is aware that the case is much closer to being escalated when handled by a local debt collection specialist who is familiar with all the procedures and legal rules in Malaysia specifically.
Most cases are resolved at this out-of-court collection stage in Malaysia.
Judicial debt recovery in Malaysia.
The legal system in Malaysia.
Malaysia is a federation of states and federal territories. Federal laws enacted by the Malaysian Parliament apply throughout the country. There are also state laws enacted by the state legislatures which apply in each state. The most important legislation in Malaysia is the Federal Constitution. It provides the legal framework for laws, legislation, courts and other administrative aspects of the law. It also defines the government and the monarch and their powers, as well as the rights of citizens. In situations where there is no law regulating a particular circumstance, case law may apply.
The legal system in Malaysia is based, in the main, on British common law, as a direct result of Britain's colonisation of the country. Prior to independence in 1957, most of Britain's laws were imported and either incorporated into local law or simply applied as case law.s
Muslims are subject to Islamic law (syaria). The Islamic laws are mostly civil laws relating to civil matters for private individuals. Syariah rules are set by various sultans, who act as the head of the Islamic religion in their respective regions.
The structure of the courts.
There are five levels of courts in Malaysia, (here in ascending hierarchical order.)
1. Magistrates' Court,
2. Sessions Court,
3. High Court,
4. Court of Appeal,
5. The Federal Court.
Federal Court: the Federal Court is Malaysia's highest court. The Federal Court can hear appeals against civil decisions of the Court of Appeal.
Court of Appeal: The Court of Appeal generally hears all civil appeals against High Court decisions.
High Courts: have general supervisory and review jurisdiction over all subordinate courts and have jurisdiction to hear appeals from subordinate courts in civil and criminal matters. The High Courts generally hear civil cases where the claim exceeds RM 1 000 000, with a few statutory exceptions. The High Courts also hear all cases relating to bankruptcy and liquidation of companies.
Subordinate Courts:
Magistrates' Courts and Sessions Courts in Malaysia have jurisdiction in both criminal and civil matters.
Sessions Courts: The Sessions Court hears cases where the amount in dispute does not exceed RM1 000 000. A Sessions Court can hear all civil cases relating to car accidents, landlord-tenant disputes and enforcement actions.
Magistrates Courts: Magistrates are divided into First Class Magistrates and Second Class Magistrates, with the former being legally qualified and having greater powers.
First Class Magistrate: A First Class Magistrate can hear civil cases where the amount in dispute does not exceed RM100,000.
Second Class Magistrate: civil jurisdiction: a Second Class Magistrate may hear a civil case that does not exceed RM10 000 including interest costs.
To initiate a legal procedure:
Civil proceedings are initiated either by:
– a writ of summons "writ".
Where there is a substantial dispute of facts, a "writ" should begin the proceeding.
– an "originating summons".
Where there are few disagreements of facts, and the main issue instead are how to interoperate the law, the proceeding may be begun by originating summons.
Summary judgment: In some cases, a plaintiff can apply for a so-called summary judgment. This is a simplified procedure with a simplified judgment that does not go through the whole legal process. It only applies to cases started by a "writ". The circumstances of the case must lend themselves to this. Factors that come into play are that there is no real intention or reality for the defendant to defend the action. It is therefore perfectly suited to judicial debt collection in Malaysia where the debtor fails to pay a debt without there being any legal argument for non-payment.
Default judgment: Another type of simplified judgment may also be envisaged. This is a so-called default judgment, which may be applied if the defendant does not respond to the writ of summons.
Who bears the cost of legal action?
Can the costs of proceeding with judicial debt collection in Malaysia, through litigation, be charged to the debtor?
A court has the power to shift costs onto the losing party. How much of the costs are shifted to the losing party depends on the specific case. Factors that come into play include the size of the case, the legal complexity, etc.
When does a claim become time-barred so that it can no longer be pursued legally?
As far as limitation periods for breach of contract are concerned, a claim becomes time-barred six years after the date of the breach. In situations where a judgment has been obtained by legal action, the judgment is time-barred after twelve years, of which it needs to be enforced before then.
Alternative dispute resolutions.
Are there any alternative dispute resolution methods to going to court, in case of legal recovery of a claim in Malaysia?
The alternatives to proceeding with a civil lawsuit by the debtor are mediation or arbitration.
Mediation is a voluntary process regulated by the Mediation Act 2012. Communication and negotiations are facilitated by the existence of a third party acting as a mediator. The parties are free to appoint their own mediator, but may request the Malaysian Mediation Centre of the Bar Council (MMC) to appoint a qualified mediator if they are unable to reach an agreement. Successful mediation results in agreements being written down in a settlement agreement signed by the parties. However, the parties to an unsuccessful mediation may proceed to trial or arbitration.
Arbitration is a private procedure with judicial review by an independent third party acting as an arbitrator. Arbitration is similar to court proceedings in that the arbitrator decides the outcome of the dispute in the same way as a judge, however, the parties are free to decide on the number of arbitrators, the appointment of the arbitrator and the rules to be applied during the arbitration process. An arbitral award is binding on the parties. Normally, arbitration is agreed upon as a method of dispute resolution when entering into a contract with each other.
Enforcement of claims.
As a final step in the process of legal debt collection in Malaysia, one may need to apply for enforcement of the claim. In short, this means applying to the court for assistance in transferring assets from the debtor to oneself. This is provided that you have a successful judgment from legal proceedings (or something equivalent such as a settlement agreement or an arbitration award.) An application for enforcement can then be made to the court. Tools available to the court to get assets from the debtor include seizure and sale of the debtor's assets.
Insolvency proceedings.
It should also be noted that insolvency proceedings may be initiated. This is if the Malaysian debtor simply does not have sufficient funds to settle its debts. In such a case, reconstruction or liquidation proceedings for the debtor may become relevant.
This is how our debt collection service works.
Get started today with debt collection in Malaysia so that you get paid as soon as possible for your debt!
See how easy it is to get started with your case!
Oddcoll is a service for international debt collection.
We make it easy for companies to get paid from their customers abroad.