Debt collection in India that is conducted locally by a local debt collection agency.
Risk-free. Pay only upon success.
19,5 % in commission.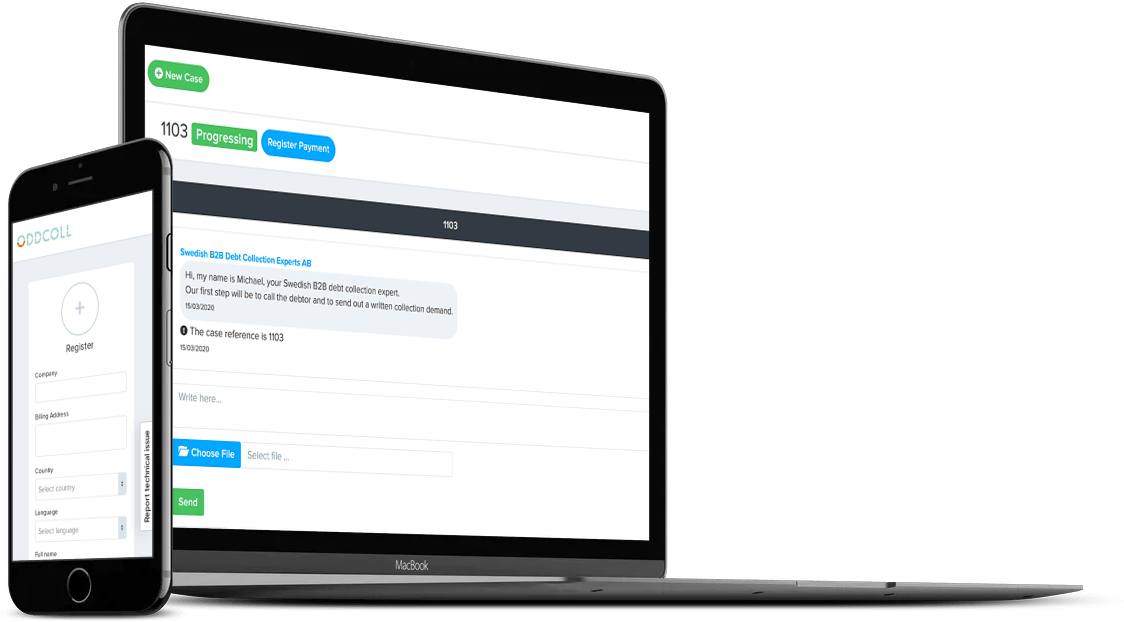 Effective debt collection against your business customers in India.
We can help you with fast and efficient debt collection in India for your Indian business customers. Read on to see how quickly and easily you can get started with your Indian debt collection case.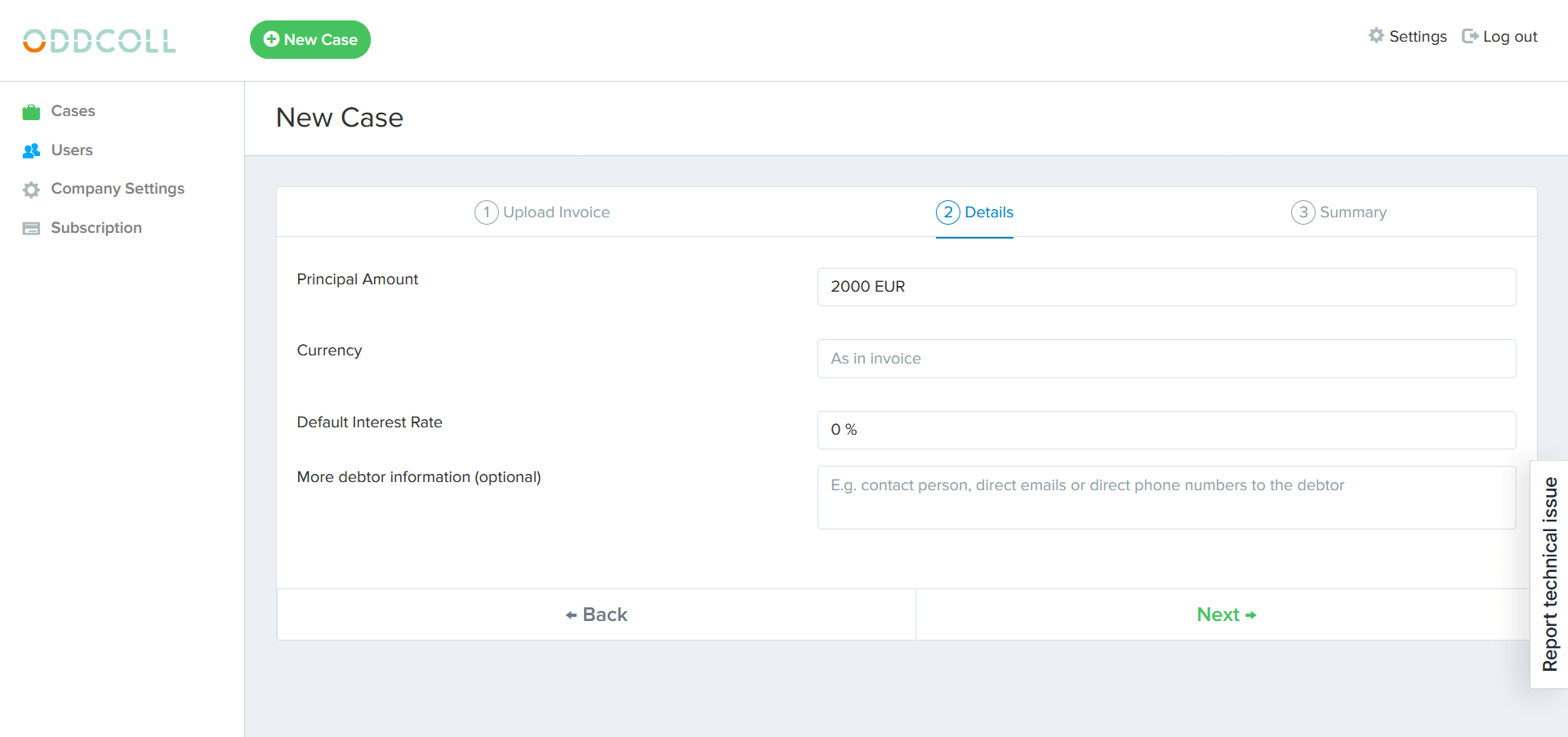 Debt collection in three easy steps.
Upload your Indian debt to our debt collection platform.
Our Indian debt collection agency initiates recovery action directly in India.
Some of the advantages of using Oddcoll for debt collection in India.
We have a local debt collection agency on site who are specialists in how to recover debt from specifically Indian debtors.
You start and manage your cases super-easily online on our debt collection platform.
Risk-free debt collection which means you only pay if we succeed in your case.
Collecting debts from Indian customers when you are located in another country can be very frustrating.
It is impossible to put any pressure on your Indian debtor and you can feel powerless and at a loss as to what to do in that situation.
Collection action needs to be taken locally against a debtor by a collection agency that knows the rules and culture of where the debtor is located.
That's why at Oddcoll we created an international debt collection platform that connects the best-performing debt collection agencies and law firms around the world. So when you have a problem with a non-paying Indian customer, you can put our Indian debt collection agency to work in just a few minutes.
All you need to know about international debt collection in 60 sec.
Our local debt collection agency located in India who will directly initiate collection actions on the spot.
We are pleased and proud to introduce our local debt collection partner in India called Maxim Credit Management Services.
– Could you briefly describe your company?
Maxim Credit Management Services is India's one of the most reputed and leading firm specialized in domestic and international Business to Business (B2B) debt recovery services that offers total solutions right from early stage collections to legal services covering every stage of the recovery cycle i.e. amicable negotiation, legal negotiation and legal action (litigation) to companies having delinquent accounts in India. We have a highly skilled team of in house attorneys that provide a quick, focused and workable solution to our clients with high rate of success. We work on a "no win no fee" basis with a reasonable commission rate on the collected amount.
-Can you give us an overview of the collection process in India?
When we receive a assignment for collection we begin immediately to collect the money. We use a proven combination of letter and phone communications designed to persuade the debtor to honor their obligation. Our follow-ups are consistent and lag free. Most importantly we keep our clients updated of the progress on a regular basis. Whenever the debtors become stubborn and amicable recovery becomes difficult we recommend for initiating legal action and only with the prior approval of our client we start the legal collection. We work on a "no win no fee" basis with a reasonable commission rate on the collected amount.
-If you are taking legal actions in a case and you win in court, can the costs for legal actions that the client has paid for be added to the debt?
It is not mandatory to pay the legal costs and is discretionary and depends upon the discretion of the Judge whether to add on those costs and interest in the final order or not. Though while filing the plaint in the court we do request judge to order debtor to pay the legal fees as well as interest, however final discretion is of the judge.
To proceed with legal debt collection in India.
India has a very old legal system and uses a system of customary law, inherited from the legal system established by earlier colonial powers and princely states, as well as some practices from antiquity and the Middle Ages. But mainly, the legal system is a legacy that India received from the British after more than 200 years of their colonial rule.
But although India's legal system stretches back hundreds of years, the modern legal system is mainly shaped by the Constitution of India, which was adopted after India became independent from British rule in 1947.
The Republic of India was established by the Constitution. A republic consisting of a union of states with a federal government, as well as state governments and union territories. The judiciary derives its powers from the Constitution.
The courts:
The hierarchy of the courts in civil cases involving a claim against a company in India can be simplified as follows.
• Supreme Court of India
• High Courts
• Dictrict Court
• Sub Court.
• Principal Junior Civil Judge Court.
• Munsif Court.
The Constitution states that the Supreme Court and the High Court of each state shall be the apex of the judicial system. They have jurisdiction to decide primarily disputes between the Union and the State, between the State and the State, between the State and its citizens and, in a few limited cases, appeals arising out of private disputes when they involve "substantial questions of law".
The Supreme Court of India is the highest court for the whole of India and the High Courts in each state are called the High Court.
For civil cases (Indian debt collection cases are classified as), the jurisdiction and power to hear the case, under the Civil Procedure Act, lies with the Munsiffs' Court, the Sub-Divisional Court and the District Court.
So in which court is a case for recovery of a debt initiated in India? In most States in India, original jurisdiction for civil matters begins in the sub courts, but there are more variations in the civil jurisdiction as States have their own statutes for Civil courts where the jurisdiction to hear a case depends on the amount at stake. The answer is therefore simply that it depends on the individual case.
This is how our debt collection service works.
Do you need help with debt collection in India? We can help you! Start a case or get in touch with us today.
See how easy it is to get started with your case!
Oddcoll is a service for international debt collection.
We make it easy for companies to get paid from their customers abroad.