Debt Collection in Australia
Do you require assistance with debt collection in Australia? Oddcoll can assist you in swiftly and seamlessly receiving payment from your Australian debtors. We understand the frustration that can arise when your international clients fail to settle their invoices. Traditional methods and pressure tactics often prove ineffective. By initiating your case with us in just a matter of minutes, you'll engage a local Australian debt collection specialist operating right where your debtor is located. Simple, fast, and effective debt collection in Australia.
How do I get started with debt collection in Australia?
To begin the debt collection process in Australia, simply upload the unpaid Australian invoice onto our platform. Setting up your first case and account takes less than a minute. Once you upload your unpaid Australian invoice, the collection process against your Australian debtor will commence immediately. An Australian debt collection specialist, well-versed in Australian debt collection law and business practices, will begin applying pressure on your debtor locally in Australia. This specialist will communicate with your debtor in their native language, thereby increasing the likelihood of a successful outcome.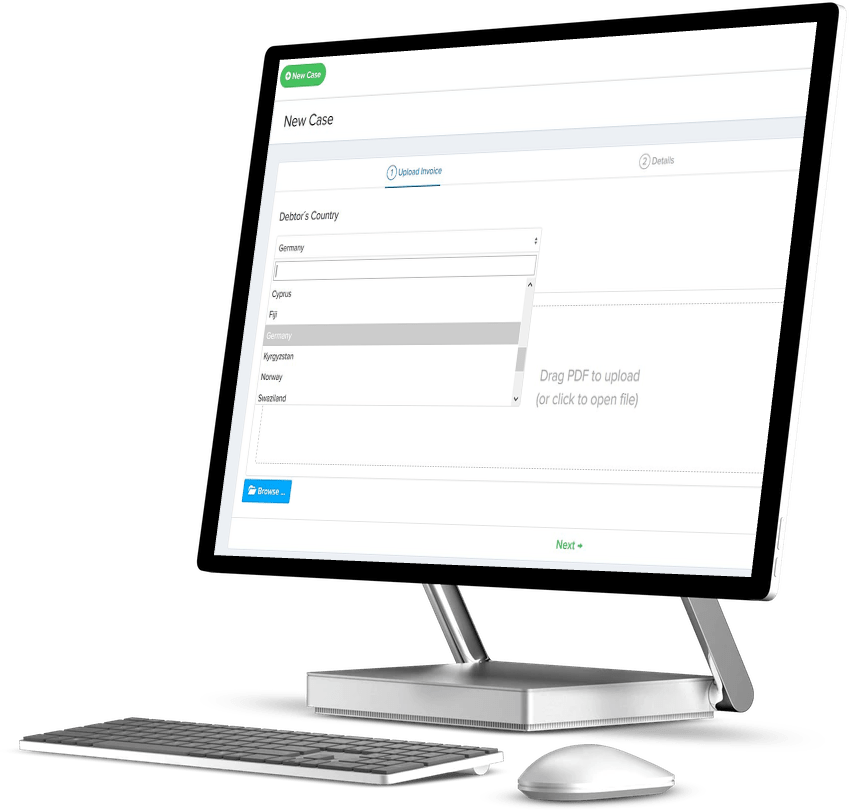 Experts in international debt collection!
  Rated 9,2 out of 10 on
Kiyoh
!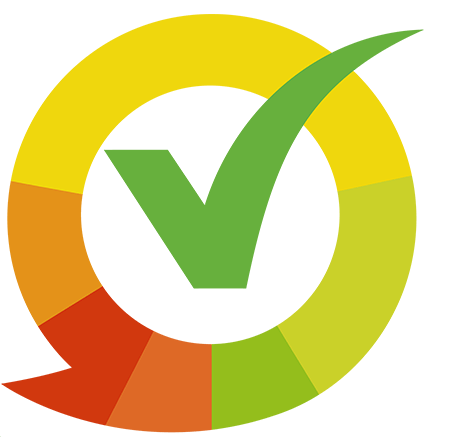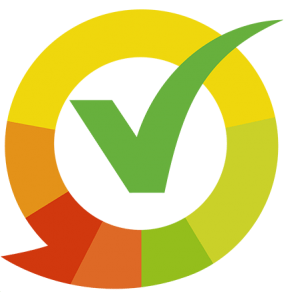 Risk-free. Only pay if you get paid.
What is the cost of utilizing Oddcoll's debt collection services in Australia?
Our pricing model is based on a contingency fee, meaning that you will only be charged if we successfully recover your claim. Our fee is 19.5% of the total amount collected, ensuring that you receive 80.5% of the recovered amount. In the event that we are unable to recover any funds, you will not be charged anything.
Typically, our debt collection platform, Oddcoll, has a membership fee; however, we offer a 30-day free trial period during which you can initiate as many cases as you want without any startup costs or risks. This sets us apart from many other debt collection services that charge a significant initial fee just to open a case.
We strongly believe in shared cooperation towards the common goal of recovering the money owed, and we are dedicated to earning our fee only through successful results. Our pricing model reflects this belief, and we work collaboratively with all parties involved to achieve a favorable outcome. For more details on our pricing, please refer to our pricing-page.
What debt collection measures will you take to recover the debt in Australia?
Various measures will be implemented. Initially, we will strive to collect payment from your Australian customer during the amicable collection stage, without resorting to legal action. This is accomplished through our knowledge of Australian laws, regulations, and business practices. The actions taken may include:
Credit scoring Establishing contact
Applying pressure on the debtor
Negotiation
Visiting the debtor's premises
Utilizing appropriate legal channels and petitions
Insolvency proceedings
Enforcement of claims.
Our debt collection specialists in Australia will employ these measures strategically to increase the chances of a successful debt recovery.
How is my customer relationship affected?
Not at all. The actions taken always adhere to good debt collection practices, and we operate within the legal framework of the relevant jurisdiction. Our local specialists in Australia are familiar with Australian culture and conduct themselves professionally, ensuring that your customer relationship is handled in the best possible manner.
How does the debt collection process on your platform work once I have initiated my Australian debt collection case?
The process is simple:
1, Upload your unpaid Australian invoice to our online platform.
2, Our team will initiate the necessary actions against your Australian debtor to recover the debt. You can monitor the progress of your case through notifications and updates on the platform.
3, Once the debt has been successfully collected, the funds will be transferred to you.​
(See how easy it is to get started – 55 sec!)
What are the chances of Oddcoll successfully collecting my claim in Australia?
Based on our historical data, we have achieved a success rate of approximately 80% in our debt collection cases in Australia. However, the likelihood of success can vary depending on factors such as the financial capacity of the debtor, the clarity of payment obligations, and the age of the debt. Generally, initiating the debt collection process at an earlier stage increases the chances of a successful outcome.
How long does the debt collection process usually take in Australia?
It is difficult to provide an exact timeframe as each case is unique and can vary depending on several factors. Some cases may be resolved relatively quickly if the debtor responds promptly and pays the debt, while others may require more time and effort to reach a resolution. We are committed to moving the case forward as efficiently as possible to ensure a successful recovery. Rest assured that we will work diligently to resolve your case in a timely manner.
What kind of documentation does Oddcoll need to start the debt collection process in Australia?
We primarily require the unpaid invoice that has been issued. If there are any other relevant documents, such as a signed contract or proof of delivery, these can also be uploaded. If additional documentation is necessary for the specific case, our debt collection specialist will request it at the appropriate stage. It would also be beneficial to provide contact details of the debtor along with any description of previous communication you may have had with them. This information will assist us in approaching the debtor in the most effective manner possible.
What legal action can you take if it becomes necessary to pursue the claim legally in Australia?
We can assist you with various legal actions if it becomes necessary to pursue the claim through legal means in Australia. This includes initiating legal processes for undisputed claims, handling legal proceedings for disputed claims, enforcement of court judgments, and insolvency processes. Our team of legal experts in Australia is well-versed in the legal procedures and requirements, ensuring that your case is handled effectively and in compliance with the Australian legal system.
Do you accept all types of debts?
No, we specialize in B2B debt collection, specifically focusing on cross-border business debts. If you have a debt owed to you by an Australian company, we are the right service to assist you.
Benefits of Using Oddcoll for Debt Collection in Australia

Our team is highly knowledgeable about Australian business culture and regulations, providing a comprehensive debt collection procedure.

With our online portal, you have access 24/7, allowing you to stay informed and updated on the progress of your debt collection case at all times.
What if I have multiple unpaid claims from Australian debtors to upload?
No problem at all. You have the flexibility to initiate your cases by uploading them individually (taking about a minute per case), via an Excel file, or by connecting your ERP system to our platform through API. We understand that each customer may have multiple cases to manage, and we aim to provide the most efficient and convenient process for you.
Do you provide debt collection services in countries other than Australia?
Indeed, we offer comprehensive debt collection services beyond Australia. As a prominent global B2B debt collection provider, we have an extensive network of experienced local debt collection specialists spanning across various countries. Count on Oddcoll to cater to all your international debt collection requirements with utmost professionalism. Our dedicated team will diligently work towards recovering the outstanding debt on your behalf, regardless of the debtor's geographical location.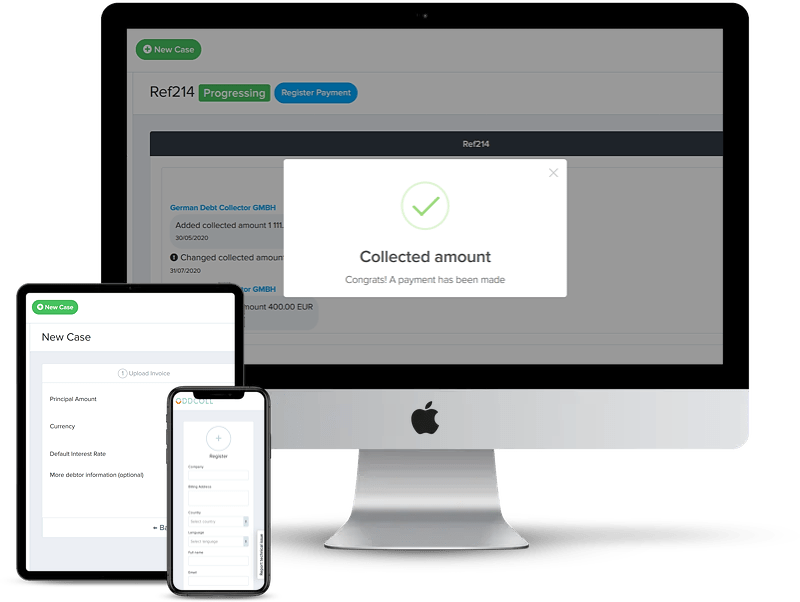 We know how difficult it can be to get a customer abroad to pay. As a creditor in another country, you have no leverage.
We have solved this problem by creating an international debt collection platform with the best local debt collection agencies and law firms around the world.
This means that when you create a case with us, a local debt collection specialist will work on your case, no matter where in the world your debtor are located.
Through testing and careful screening, Oddcoll ensures that you have the best local debt collection specialist available everywhere!
An international debt collection Service that covers all the world.
Always local debt collection specialist with their boots on the ground where your debtors are located.
Always manage your cases quickly and easily on our web portal. 24/7.
Information about debt recovery in Australia

Our local debt collection agency located in Australia who will directly initiate collection actions on the spot:
We are pleased to introduce Upper Class Collections Pty Ltd as our debt collection partner in Australia. They will immediately start collection actions in Australia when you start a case.
The debt collection process in Australia
Introduction.
Out-of-court debt collection in Australia
The legal system in Australia.
The court system in Australia.
Which court should you go to with your unpaid claim?
Limitation period.
Introduction:
After an invoice is due and perhaps some reminders have been sent, a debt usually becomes subject to debt collection in Australia in the out-of-court phase. This is when a debt collector tries to get an Australian debtor to pay the debt, without having to take the matter to court.
If the debt is not paid at this stage, it may be necessary to take the case to court. The aim is to obtain a judgment that demonstrates that there is a legal obligation to pay.
If you have got as far as obtaining a judgment in your favor, then a debtor will usually pay. But sometimes you may also need to apply for enforcement to get the state to help you forcibly transfer assets from the debtor.
The out-of-court debt recovery phase in Australia.
When a debt collection agency is faced with the task of collecting an unpaid invoice from an Australian debtor, the process almost always starts out of court. By escalating the matter to debt collection, a debtor usually realizes the seriousness of the situation. But the big advantage is that debt collection agencies, through years of experience and specialization, have become very good at getting debtors to pay. This can be done by contacting the debtor verbally (telephone), in writing (letter, social media, etc.) or even by meeting the debtor in question.
"Threat" of legal action: What debt collectors in Australia also have up their sleeve is that they can "threaten" the debtor that they will take legal action if they do not pay their debt. This is something that greatly affects a debtor's willingness to pay. Unwanted litigation involves extra costs and a lot of extra time spent. A threat of legal action is something you can only do (under Australian law) if there is a real possibility that you will undertake it. I.e. you have the expertise, jurisdiction etc to carry it out. A debt collector based in another country cannot therefore make threats of legal action.
Rules for the execution of debt collection actions: There are rules and laws that a debt collector must follow in Australia in its operations, particularly when it comes to how it treats a debtor. For example, how personal data is handled or what time of day/week the debtor is contacted. By choosing a reputable debt collection company, you can be confident that the process is done correctly and that the customer relationship is maintained in the best possible way.
Permits and licenses to carry out debt collection activities in Australia: Finally, it should be mentioned that in Australia a license is required to operate a debt collection business. Failure to comply with the rules could, in the worst case, lead to the withdrawal of these licenses for debt collection agencies. Licensing requirements are regulated locally in Australia's states and territories.
The legal system in Australia
Australia is governed as a federal system of government which was established by the Australian Constitution of 1901.
Power and authority in Australia is divided between:
The national government ("the commmonwealth") and
The six states. New South Wales, Queensland, South Australia, Tasmania, Victoria and Western Australia. (In addition, there are three self-governing territories – the Australian Capital Territory, the Northern Territory and Norfolk Island.)
The legal system is a common law system inherited from the former colonial power of England. The main sources of Australian law are:
– Statutory Law and
– Common Law.
Statutory Law: is law passed by Parliament. It can be a federal law made by the federal parliament or a state law made by a parliament in a state or territory. There is an allocation of legislative power between the federal and the state parliaments, depending on the nature of the issue. For example, the federal parliament has the power or jurisdiction to make laws on matters such as taxation, defence, interstate and international trade, while the states and territories have jurisdiction over matters such as health, education and transport. For practical reasons, the federal courts have granted the states and territories jurisdiction over most federal laws. The federal courts retain jurisdiction over bankruptcy, taxation, industrial relations, marriage and divorce, and constitutional law. The state and territory court systems also have jurisdiction over their own laws.
Common Law: This is the "law" that develops in the courts through precedents (judicial decisions of particular interpretative significance). This means that in some cases courts must follow how higher courts have previously interpreted a particular legal issue.
If statutory law and common law come into conflict? If a new law is passed by Parliament that conflicts with the common law, the new statutory law applies. Judges are also not allowed to rule against Statutory Law to create new precedents; however, they do have the power to interpret Statutory Law, and these interpretations can become precedents.
The court system in Australia
At the top of the Australian court hierarchy is the High Court of Australia, which is the highest court for both federal and state law. It has appellate jurisdiction over all other courts. And for certain specific legal cases, it is the court that hears the case from the outset.
Under "The High Court of Australia" there are two branches. These are the federal courts and the state/territorial courts.
Federal Courts:
– the Federal Court of Australia and
– the Federal Circuit and
– the Family Court of Australia.
These courts deal with cases of a specific nature. Mainly cases in which the whole of Australia has an interest. These may include matters relating to business, commercial practice, industrial relations, bankruptcy, customs and immigration.
Courts in the states and territories:
Each state and territory has its own hierarchy of courts, but most have the following hierarchy:
The Supreme Court is the highest state court. It hears large civil cases and serious criminal cases.
The District Court (or County Court) hears civil disputes for slightly smaller amounts and less serious criminal cases than those heard by the Supreme Court. In addition, these courts hear all appeals from the Local Court.
Local Court (or Magistrates Court) deals with small claims and summary offences.
So where should you go with your unpaid claim if you need to go to court?
The vast majority of such cases will be dealt with in the state courts. As we see above, it then depends on the amount in dispute.
What is the statute of limitations for taking your case to court?
Each state/territory determines its own statute of limitations for recovery actions.
For example, in the case of defaulted contracts (which comprise the majority of debts referred for recovery), the limitation period is normally six years.
In some jurisdictions, the limitation period is restarted by a payment or acknowledgement of the debt, even after the original period has expired.
Start to collect your invoices today!
Oddcoll is a service for international debt collection.
We make it easy for companies to get paid from their customers abroad.