All About Bad Debt Collection: Ultimate Guide 2023
If you want to know what bad deb collection is all about, this term is becoming more and more common, so read on to learn more about its importance, causes, consequences, management and evaluation.
Managing a debt is undoubtedly a very important part of any financial institution, business or company. There are times when recovering a debt is not an easy task, even not a possible task, when that happens, that is, when a debt cannot be recovered and its management becomes impossible, we talk about bad debt also known as bad deb collection. We tell you what it is and why this process has become essential for an entity to function correctly and without money problems.
What is bad debt collection?
Debt collection refers to the general process of recovering overdue payments or unpaid debt or invoice. This can include any type of debt, whether it is a personal loan, a credit card, an unpaid bill, among others. The main objective of debt collection is to contact the debtor, remind them of their obligation to pay and negotiate an agreement to recover the money owed.
Generally, these debts arise when the debtor is unable (or simply unwilling) to pay its financial obligations, even though the creditor has made every effort to recover them.
In fact, the recovery or collection process is not usually simple; on the contrary, it can be quite a challenge, since it deals directly with debtors who are in complex economic situations and therefore do not pay, or who do not want to pay or are not interested in paying.
Keep in mind that the chances of successful repayment are slim, but even so the Bad Debt Collection is a tool that should be used, to try to recover the money and thus preserve stability.
Causes of bad debt collection
The most common reasons why a debt may be uncollectible are:
Insolvency of the debtor: He does not have the money to pay, his economy has changed.
Closure or bankruptcy of the company: When there are extreme changes that the organization could not control, such as fraud or bankruptcy.
External factors such as natural disasters or health or economic crises.
Consequences
If an outstanding debt is not paid it can have different consequences, if it is the case of a company, losing money affects the cash flow and also the ability to grow and invest, but if it is a financial institution, such as a bank, it directly affects its solvency and profitability.
In addition, other consequences may include:
Limitation in the granting of new loans: If a financial institution has a high default rate, it is possible that it will become more complicated, strict and demanding when approving a loan.
Solvency impact: It affects not only its solvency, but also the reputation of the entity, because it jeopardizes its stability, affecting the confidence of other customers.
Loss of income: It is no secret that one of the most latent consequences is that the company or entity loses the income it was counting on and this can cause an imbalance or imbalance in its operations and services.
For all these reasons, it is vital that each debt is managed and every effort is made not to lose it, but to reach an agreement and pay it in the most timely manner possible.
Bad debt evaluation and management
The evaluation of the debt is very important to know what measures to take in this regard. Both companies and financial institutions keep a debt analysis book, which specifies its value, the possibility of recovery, decision making and also collection management and possible negotiation proposals. The following are some steps to evaluate bad debt:
Identify bad debts
Assess whether or not they can be recovered, studying guarantees for payment and factors that led to default.
Recovery strategies: Examine how these payments are going to be achieved, whether with internal collection, i.e., that the collection is made from the entity, whether with external, i.e., with the collection of a third party or some payment agreement, with new terms for this.
Finally, follow-up and monitoring of the debt, if collection calls have been made, knowing the financial situation of the debtor, observing the progress or not of the payments. All this process helps to minimize losses and protects the good functioning of the entity.
Related article:Bill vs Invoice
How does bad debt collection work?
Bad debt collection focuses on the recovery of debts considered as "bad" or uncollectible. These are debts where the debtor has shown a lack of ability or intent to pay, making recovery unlikely or impossible. In this case, the bad debt collection approach may be more aggressive and may involve the use of more intensive strategies, such as the use of specialized collection agencies or the sale of the debt to a third party at a lower price.
It should be noted that this type of debt requires the hiring of specialized debt collection agencies, i.e., they require a third party to take care of the entire collection and its steps (including legal terms). Of course, these agencies have regulations that must be complied with by law, in order to protect the consumer's privacy.
You can check Oddcoll, an international debt collection agency that works worldwide even in specific countries. You can check its specific pages: Debt Collection Agency Philippines, Debt Collector Malaysia or Debt Collection Agency USA.
What is the difference between debt collection and bad debt collection?
The difference between "bad debt collection" and "debt collection" lies in the type of debt being collected and the approach used to recover it. Deb debt collection refers to the activity of recovering overdue debts, whereas bad debt collection is the activity of recovering bad debts or debts that are considered lost.
Related article: What is debt collection
3 examples of bad debt
For a better understanding, we give you these examples of bad debt collection:
Unpaid Loan:

Either due to lack of money or due to personal or business bankruptcy. If a company or a person is considered bankrupt and after lending a considerable amount of money to a financial institution, does not pay because it has no way to respond, the debt is considered uncollectible.

Unpaid cell phone bill:

If a user of a cell phone service, for example, accumulates this type of bill, either because he cannot pay or because he does not want to, the debt is uncollectible and that is when a collection company intervenes.

Credit Card:

If a credit card holder fails to pay his or her card for any reason, the debt becomes uncollectible. The financial institution may opt for collection through a third party.
Conclusion
Bad debt collection involves attempting to recover a debt with all legal mechanisms available to you, even if the chances of payment are low. This may include hiring a specialized collection agency, or even negotiating payment agreements, even at a lower value, in order to recover the money.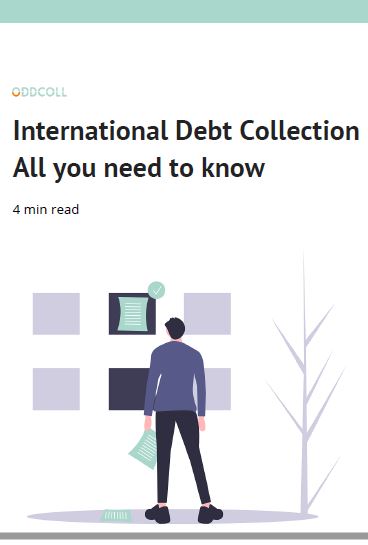 4 min read.

  What regulations apply.

  The international collection process.

  How to achieve effective debt collection.
Oddcoll is a platform with Debt Collectors worldwide, enabling internationally- oriented companies to recover their overdue invoices with ease.

Applies to all our partners
– Legal authorization to recover claims in their countries
– B2B Collection Specialists
– Communicates in English
– Experts in their national debt recovery legislation